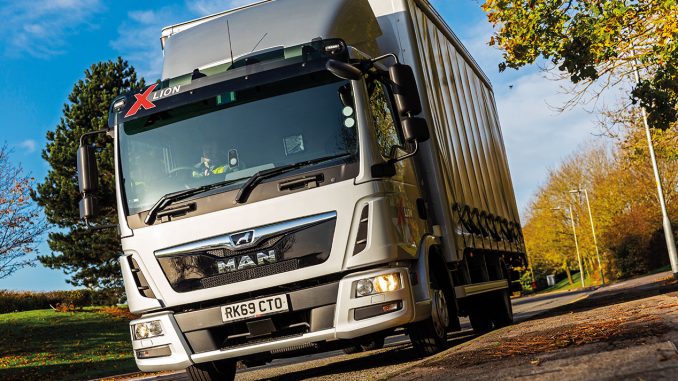 The death knell for 7.5 tonners has been ringing for some time, yet the market continues unabated. Kevin Swallow took to the road in a MAN TGL, given the X-Lion treatment, to see how the Germans fare in a vibrant sector with plenty of stiff competition.
IT HAS been two years since MAN revealed its limited edition X-Lion brand. Speaking ahead of its first unveiling at Hannover 2018, MAN Truck & Bus AG's senior vice president of marketing and brand, Bjoern Loose, said 'our customers have demanding and challenging daily requirements and we have the perfect solution for these extreme requirements'.
And he added: 'We underline this perfect symbiosis with our special edition MAN X-Lion. The X in the name of this powerful truck stands for 'extreme'.'
Generally speaking, bells and whistles combined with a lively livery is the preserve of the heavy tractor market, in this case the TGX (TN, March 2020). The standard issue 7.5 tonner tends to be left as is rather than given the same treatment, so the fact that MAN has broadened the offering across TGS, TGM and TGL is welcomed.
Let's start with the basic TGL specification; it can be supplied from 7.5 tonnes gross vehicle weight (GVW) through to 12 tonnes, with a choice of two engines, four cabs and seven wheelbases.
For the 7.5 tonner it's the D0834 4.6 litre engine. This test is a little behind the curve as it's the Euro 6C engine, 6D became legislation in September 2019. According to MAN, Euro 6D has experienced a few upgrades that MAN claimed has reduced fuel consumption by up to 5%, also there is a new, simplified exhaust gas cleaning without exhaust gas recirculation, which makes the engine lighter and less complex.
The Euro 6C is hardly agricultural. There are three horsepower and torque ratings; 160hp/600Nm, 190hp/750Nm and 220hp/850Nm. Choice of cabs are the C day, the CC crew, L sleeper and LX high roof sleeper. Wheelbases stretch from 3,300mm through to 5,200mm. Unladen kerbweight from the shortest to the longest increases by 195kg.
If you want a 12 tonner then the D0836 6.9 litre engine is available producing a nominal 250hp and 1,050Nm peak torque.
For Transport News, the UK arm of the German OEM provided a TGL 8.190 4×2 BB (BB denotes a tipper chassis, where as a BL is a normal chassis). It is powered by the D0834 engine delivering a nominal 190hp, which is really 188hp, and 750Nm of torque, and has a six speed overdrive TipMatic transmission.
EXTRAS
Up top is the C day cab, it's on a 4,500mm wheelbase with a curtainsided body built by Martin Williams (Hull) complete with slam barn doors and a Dhollandia tuckaway tail-lift.
It's probably worth touching on the bling. The X-Lion concept is an integrated package with advantageous financial 'offers' when coincided with maintenance contracts; it also includes free services from MAN DigitalServices.
The driver gets a multi-function steering wheel, driver's comfort seat with air suspension, air-conditioning system, a 'smoking package', MAN Sound System, and a choice of two hands-free functionalities for either one mobile phone or two.
This truck has the comfort-quality seat covers, central locking, cruise control, and heated and electrically adjustable mirrors. There is X-Lion lettering and the option for the Lion décor. Visually it's finished with a Titanium Silver paint job and contrasting black and red lion graphics.
Including full tanks, air conditioning, and adjustable roof spoiler, and without the driver or the bodywork, the kerbweight is 3,682kg. This leaves 3,818kg for bodywork and payload.
Once on the road, this truck provides 'a big truck' feel that is easy to drive, even for the few remaining car drivers with entitlement. Apart from a rather lower viewpoint, the driver's environment is not too far removed from that of a TGX.
The driver gets to enjoy the 'high comfort', air-suspended seat with two armrests and black and grey velour trim. The dash and door trims are in brushed aluminium. Electric windows are fitted, together with three drop-down visors across the front and another pull-down blind on the driver's door.
The instrument panel is typically no-nonsense MAN, with a clear traditional black on white theme and a welcome secondary mph scale; something some manufacturers don't bother with for UK buyers.
The speed and rev counter are above the fuel, coolant temperature and twin air gauges, and flank the comprehensive Driver Information Display, which is controlled by the bank of buttons on the left-hand steering wheel stalk, the right bank covering cruise control functions.
You control the six-speed automated TipMatic transmission from the rotary gear selector near your left knee, while there's a proper big traditional parking brake next to the seat. Also between the seats is a two-compartment storage box with document clip on the lid, and although only a standard day cab, there's plenty of space behind the seats for bags and coats.
There's a bit more storage space above the screen, either side of the panel housing tachograph, secondary switch panel and the box for the RIO telematics system, from the MAN / Scania / Volkswagen in-house technology operation. The radio mounting is filled with an impressive infotainment unit, including sat-nav, assorted media inputs and Bluetooth connectivity for two mobile phones.
The heater is a suitably luxurious climate control system, and the only real bit of penny pinching is the lack of automatic lights and wipers.
On the road, and despite only having four cylinders, the D0834 engine feels well on top of the job, while the TipMatic 'box can be left to its own devices or equally easily controlled by the throttle pedal.
You'll notice this power every time you drive off and accelerate, on every hill, and really in every mile you travel. The favourable torque characteristics of the new, modern MAN D08 engines help you to achieve economical driving with a minimum number of shifts, and that holds true whichever engine you choose. That can only get better with Euro 6D.
The exhaust brake is best just left with its chunky lever in auto, blending well with the foot brake.
The small low-mounted cab is ideal for urban environments. There's easy one-step access that will make those dozens of daily deliveries a positive joy, while the excellent visibility afforded by the well-positioned electrically adjusted mirrors and the lower edge of the windscreen being at chest height should help drivers, offering eye contact with vulnerable road users.
The TGL X-Lion 7.5 tonner may be diminutive in size but it does provide a proper big truck experience. Whether fleet buyers, who often treat small trucks as a commodity, will be tempted is another matter, but with the supply of 7.5 tonne entitled car drivers diminishing, driver retention may well become just as big an issue in this truck class as it is with C+E holders.