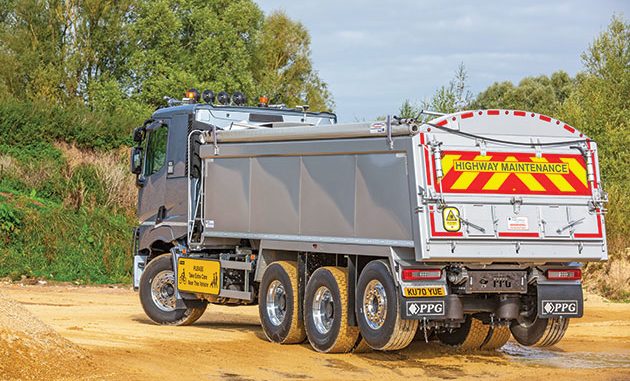 This is the second Tridem Transport News has put to the test this year and the second Renault eight wheeler. This time it's the C460. While not crammed with extras it is functional and fun to drive.
IT'S BEEN five years since Renault Trucks unveiled its Tridem eight wheeler at the Intermat Trade Show in Paris-Nord Villepinte. Like their competitors, it was a 6×4 chassis fitted with a fourth steering axle.
The following year the first Renault Range C Tridem arrived in the UK with an Aliweld tipper body in the colours of aggregate and sand supply specialist RH & AJ Bateman, based in Somerset. Boss Russell Bateman was pleased his new C460 had the manoeuvrability of a six wheeler but with the load capacity of an eight wheeler.
Over the years Transport News has enjoyed more than a few Tridems and their versatility and manoeuvrability is not questioned.
Two months ago (TN, October 2020) a DAF XF480 FAW 8×4 Tridem was put through its paces and earlier this year (TN, June 2020) Renault Trucks UK brought a traditional 8×4 up to Scotland fitted with a hook lift; that C430 made a good impression.
This time we get the C460, the highest power rating available for the DTI11 Euro 6 Step D 10.8 litre six cylinder inline diesel engine.
It's been more than a year since the Euro 6 Step D was introduced on 1 September 2019; this saw the measurement of emissions figures by PEMS (portable engine measurement system) broaden from 80% of the engine's activities for Step C to 90% for Step D.
The French share the same engines as Volvo, including a new generation post treatment system made with new materials for increased durability. An AdBlue quality sensor has also been added. A new diesel particulate filter especially for Step D with changes to the wall thickness and pore sizes has been introduced, which is compatible to all Euro 6 engines.
An extruded vanadium material, a hard grey metal used to make alloy steels, has been extended to all engine ratings and allows regeneration at lower temperatures. This meant the 7th injector could be removed.
For this road test, Renault Trucks UK has fitted the C460 8×4 with the flat roof Night & Day cab. From the bottom step to the cab floor it's 1,008mm and inside there is an internal height of 1,574mm from the footwell and a 200mm engine tunnel height.
Stood in the footwell you can, providing you are shorter than 5ft 2in, stand up straight. Any taller you'll need the Sleeper cab with the pod, which has 2,136mm, or 7ft, in which to stand. The single bunk is 670mm wide and 2,010mm long, from the cab floor the bunk is 430mm high. Headspace is 954mm.
Otherwise from the pod up, the Night & Day cab and Sleeper cab are identical.
Externally this Renault Range C460 is fitted with a Range K steel bumper. There is a practical reason for this, as it provides much better ground clearance and a 24 degree approach angle, with the straight beam front axle 312mm from the ground.
This 10.8 litre six cylinder inline diesel engine with common-rail high pressure fuel injection and overhead camshaft, uses exhaust gas recirculation (EGR) and selective catalytic reduction (SCR) to achieve the Euro 6 Step D emission standard.
Badged as a C460 its true horsepower rating is 453hp from 1,700-1,900rpm. Options include the 380 or the 430 badged engines. Peak torque is 2,200Nm from 1,000 to 1,400rpm, and helping to turn that power into motion is the Optidriver ATO2612F overdrive 12 speed transmission.
Gear ratios go from 11.73 for first gear through to a 0.79 in top gear. The rear axle ratio is 3.89:1. This combination brings the revving down to an acceptable level, a tad over 1,400rpm at 56mph.
Secondary braking is achieved from the Optibrake, which combines the exhaust brake and valve compression brake to deliver 300kW at 2,300rpm.
Renault Trucks' Tridem is available with the choice of a tag axle (as seen here) or a pusher axle, which is automatically raised when the vehicle is not at a sufficient weight.
Given that the DAF XF480 FAW 8×4 Tridem and the Renault Range C460 are identical in terms of what they are, a 6×4 with an extra steering axle at the rear, there is a subtle difference in the wheelbase.
The DAF was 4,550mm (first to third axle) that delivered a 15.4m turning circle. On Renault's C460, the chassis length between the first and third axle is 700mm longer, making it a 5,250mm wheelbase. Predictably that creates a wider, 17.0m turning circle.
Were this C460 fitted with a day cab, the wheelbase option would be 5,050mm.
Despite that extra steelwork on the chassis, it weighs in at 9,996kg (full tanks and no driver) for the chassis cab, whereas the DAF topped the scales at 10,664kg.
Inside the cab it's safe to say the C460 is functional to the point where it doesn't even have a cup holder. In and around the dashboard there are sufficient places for small item storage however. There is a pull-out drawer from under the bunk fitted with a cool box and, for all self-respecting tipper drivers, the bunk is home for anything else.
Out on the road, the descriptive design of the Renault's Range C460 still makes people look twice. It feels robust, which is certainly something you want when it comes to a hard-working tipper. Its driveline is, arguably, too much at 32 tonnes but it's available with no extra weight penalty so why not.
It will lug down to 1,000rpm where it uses 2,000Nm of the available 2,200Nm of torque and around 290hp of what it's got on tap. Below 1,000rpm the peak torque plateau falls away quite rapidly. At 1,400rpm it will still be using its peak torque capabilities, and the available power rises to 430hp.
One other area for consideration is its Direct Vision Standard (DVS) rating. Even if that means little now to operators located in Scotland and the north of England, it will be an issue in the future.
Despite being one of the newer trucks available, the Range C gets a zero star rating, although fitted with external cameras they are retrofit items and do not qualify it for any of the scheme's star ratings.
While forward visibility straight ahead is not its forte, from the high seating position, which is elevated further by the Range C's general height, you can still see obstacles in front of you, even when they are very close.
Visibility elsewhere is good, with well positioned mirrors that provide sufficient space between the A-pillars and mirror housing unit to not limit your field of view. There are, as a result, virtually no blind spots.
Finally, it's worth noting that this is the second Renault Tridem Transport News has tested. The original (TN, June 2018) was fitted with the day cab and the shorter wheelbase. Then, as now, it remains a comfortable drive putting the chauffeur at ease with smooth handling, effortless gear changes and a driveline that can more than cope with the arduous terrain found in the Borders.
With one front steering axle lateral movement is smoother and with the rear steer it has greater lane discipline on those single-track A-roads.
So, why buy? Already it has found a home in many sectors of bulk transport, as well as with specialist equipment. The adage that it's a 6×4 with an extra axle is mechanically true, but if you want to run one it has to be costed as an eight wheeler.
A key thing to remember here is that the majority of your bulk material will be loaded over the three axle bogie. There is little play with the 9,000kg front axle in terms of putting much payload forward in the body of the vehicle. So, you have to be sure that it meets your needs.
The driveline is strong enough to cope and should deliver consistent road speeds even through the tougher terrains. Manoeuvrability is excellent, but a longer wheelbase, there are options up to 6,550mm (first to third axle), will widen that turning circle.
Overall, the critical part is getting the specification right for a Tridem so it's fit for purpose. This particular version is a functional truck that is easy to drive and can be navigated into the tightest areas.