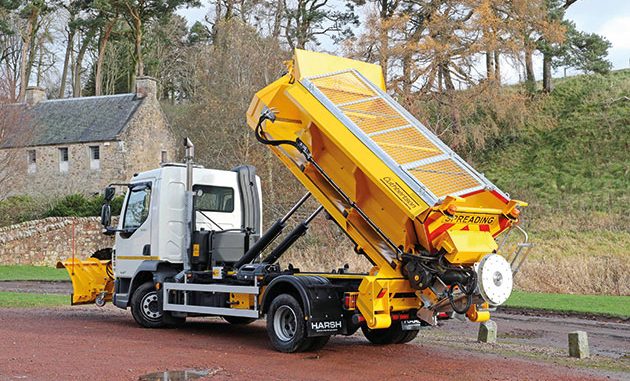 INVERNESS based Highland Council is taking delivery of a trio of new 12 tonne DAF LFs carefully configured to offer operating versatility, whatever the season of the year.
At the centre of vehicles' specification is the powerful yet lightweight Harsh HH8 hookloader system used to load and off-load multiple types of bodywork. For most of the year, the council's requirement is for tippers, whilst in the harsher winter conditions the need switches to gritters and snowploughs.
'The beauty of the Harsh hookloader system is that it makes swapping bodies simple,' said Ewan Tolson, sales manager of bodybuilder James A Cuthbertson Ltd of Biggar, Lanarkshire. He added: 'It's a fast, easy and straightforward process for any type of body. The key is that the hydraulics to operate the system remain on the truck, so the operator is not having to deal with complexities such as demount tipper bodies having their own separate oil systems. This makes bodybuilding simpler and more efficient.