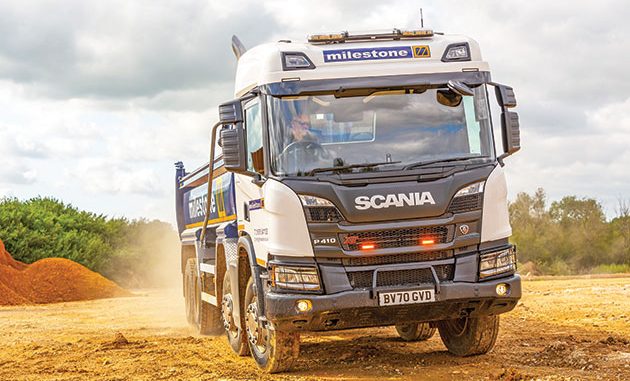 Scania launched its XT range from its position of strength as a dominant force in the UK eight-wheeler sector. Known for reliability and lightweight chassis-cabs, Transport News assesses how the rugged XT has worked out.
BACK IN 2017 Scania launched the XT truck range, 'tailor-made for the construction industry', stated president and CEO Henrik Henriksson. The XT was the second stage in Scania's introduction of its new generation of trucks that bear 'the fruits of more than 10 year's development with an investment exceeding £1.8 billion'.
Critical to the 'new-gen' multi-axle line up was making sure its kerbweight remained viable because payload is everything in the tipper game. Jobs are divided up into 20 tonne chunks to denote the number of trips a wagon will make.
Retaining a competitive payload has not been easy. Since Euro 5 trucks have become up to 500kg heavier to accommodate the new emission ratings and many operators adjusted the size and weight of the body, using smaller fuel tanks and smaller cabs to compensate.
Manufacturers have also done their bit, by taking as much weight as possible from the cab, reworking and reducing the size of components like the engine after treatment system and, to a lesser degree, taking what they can from the chassis.
Scania's challenge was not to lose its competitive edge, namely being one of the lightest multi-axle rigids in the marketplace.
For construction, XT is now part of a modular line up allowing a more piecemeal approach to specification that helps reduce the manufacturer's build cost. Order an XT for heavy duty tipper work and you'll get a beefed up front end; it includes a single-piece steel bumper, a 'protection shield' to protect the cooling system, headlamp protection, and robust wing mirror guards. All that eXTra adds up to around 90kg more than a standard issue tipper specification, which in this case would be a P-series.
XT is a broad church; it can be ordered as P, G, R and S-series, it includes 19 cabs and 18 engines on a choice of 14 rigid and seven tractor unit axle configurations.
Drivelines include the three 7 litre engine ratings between 220 and 280hp, five 9 litre options from 280 to 360hp, six at 13 litre from 370 to 540hp and four V8 16.4 litre engines starting at 530hp right through to the new table topping 770hp.
REVISED AHEAD
These engine horsepower and torque ratings were revised ahead of the mandatory Euro 6D emission standard for all new trucks introduced in September 2019, with the V8 getting another boost last year (TN, October 2020).
In Euro 6C drivelines the measurement of emissions figures by the portable engine measurement system were ignored when the engine is developing less than 20% of its maximum power, at Step D the threshold is just 10%.
Scania's DC13-163 12.7 litre straight six-cylinder engine uses selective catalytic reduction (SCR) after treatment only to achieve Euro 6D. This truck is the 410hp version that delivers peak power at 1,800rpm and 2,150Nm torque from 900-1,340rpm.
Also onboard is the automated GRS905 Opticruise 12 speed' box, which has two crawler gears, and comes with the option of manual override. It is a direct-top transmission coupled with a 2.92:1 rear axle drive ratio.
Up top is the P-series 'P-day cab normal' with a Predator steel tipper body produced by renowned manufacturer Abba Commercials, based in St. Helens, Merseyside.
This particular XT package is also specified with Transport for London's Direct Vision Standard (DVS) in mind, and has a factory fitted second passenger window in the bottom half of the door. Subsequently, this truck gets a two star DVS rating, which is calculated by the total glazing you can see from the driver's seat.
Yet it only counts because it's a factory fit offering; had it been retrofitted it wouldn't have boosted the truck's star rating. What visual enhancements these windows actually offer are questionable, especially when they are blocked by a passenger's legs, the drivers' bag or anything else that gets thrown into the passenger's footwell.
Since its launch, the XT has arguably one of the best designed interiors in the marketplace and the cockpit style dashboard is something other truck manufacturers have also embraced with their subsequent cab launches.
Moving the seating position forward and closer to the door will always divide drivers, but it doesn't change the feel of driving a tipper, much less one made by Scania. The touch and feel of the dashboard is smooth and robust, and the fabrics for the seat and steering wheel are comfortable and grippy rather than being too firm and slippery.
Dials and buttons are contemporary, the screens are easy to navigate and storage is better in an extended day cab compared to the short day cab as there is plenty of space for personal protection equipment behind the seats, rather than simply being crammed down into the footwell.
Before setting out on the rolling countryside that makes up Gloucestershire, it's time to load up in the quarry. The scales have the truck at 12,220kg with full tanks and no driver. It doesn't offer the precious 20,000kg, – even choosing the alternative to XT would not achieve that, but it's still not bad considering it's a heavy duty spec with a steel muckaway body.
A smaller diesel tank and AdBlue tank might offset the overall kerbweight but you also have a standard issue 75kg driver to consider as well. So, 19,705kg (with full tanks and the aforementioned salad loving driver in the cab) is the working payload, which is impressive.
Going for the 410hp option doesn't diminish performance although it does predictably lack the oomph of the 450 version (tested in Transport News January 2019).
What underpins the 410 is the torque; the 2,150Nm from a solid narrow plateau where the top end sits at 1,340rpm and it will lug tirelessly right down to 900rpm. When Opticruise decides to make a change, it does it seamlessly.
To get the best from the driveline, the revamped Scania Driver Support system was engaged; for those unfamiliar with it, by using a live feedback the truck's 'virtual driver trainer' rates each braking performance, acceleration and gearshift using a five-star reward for each action, which then goes towards a running percentage total.
Brake too late, accelerate to early, change gear unnecessarily, drive over the apex of a hill, all end up with few stars to show for it. Come off the accelerator early, allow gravity to slow the vehicle for at least four seconds before applying either the engine brake or service brake, coast over the apex of a hill, then five stars is your reward.
Learning to trust your judgement and anticipation helps improve your skillset, and it also helps that the exhaust brake is extremely responsive, especially if the revs are up in the blue section at 2,000-to-2,200rpm.
However, get it wrong and you end up with fewer stars and advice from the Driver Support function. While simmering over that advice, the quality of the truck's handling can be overlooked. Smooth to the point that it feels like a 4×2, not an 8×4, it's light, precise and without understeer; a common complaint by truck drivers when on site.
Since Scania launched its XT, its competitors in the tipper market, namely DAF Trucks and Volvo, have not stood idle. It is kudos to the Scania's design that XT remains contemporary and its kerbweight is also competitive.
Like the 450 tested two years ago, the 410 version delivers a robust performance when it too has combined with enough nuance and elegance to relax the driver.
Whether you feel it is necessary to specify the extra window in the passenger door or not, the cab is comfortable, has just enough space for the driver's baggage and PPE, visibility is excellent, and the handling is exquisite.
Go for the XT and there is a small weight penalty for that extra protection, but with all things considered, it's got the tools to be fuel efficient and deliver the right amount of bulk material.
It is easy to see why the XT is a popular choice. So, unless you have the Borders, Cairngorms or Highlands to navigate daily the 410 is a rational choice for decent fuel economy combined with performance.