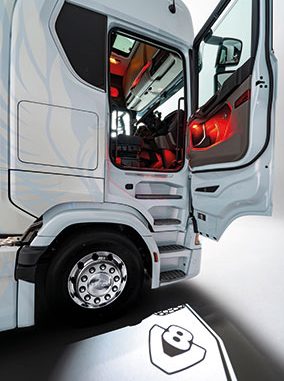 THE FIRST Flying Griffin, the Limited Edition V8 created in celebration of Scania's new range topping 770hp V8 engine, has now arrived in the UK. Just 16 RHD examples are being released and such was the interest generated by their launch last September that the entire complement was spoken for within six hours. The remaining 15 units will be delivered over the coming months.
"Demand for the Flying Griffin has been simply incredible. It clearly demonstrates the exceptional pulling power of the Scania V8!" said Vincente Connolly, UK sales director for Scania (Great Britain) Ltd. "The sight of a fully loaded 770 S tractor unit with its unique pearlescent white paint finish and a livery dominated by a flying version of our iconic griffin motif is sure to turn heads wherever it goes."
Every Flying Griffin is being built with a Scania Highline cab featuring a unique numbered Limited Edition cab badge, LED premium lighting pack, chrome roof air horns and Alcoa Dura-Bright alloy wheels. They will also feature the matt finish dark grey V8 grille announced by Scania at the end of last year.