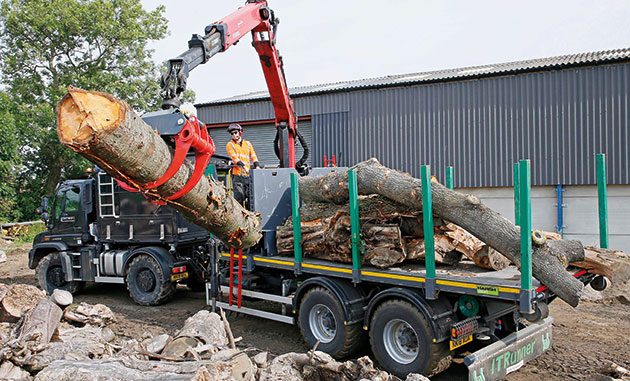 NEEDING to make further investment in its vehicles, specialist arborists and forestry management business Greenworx opted to take a different route from purchasing multiple examples of conventional trailers, instead opting for the Harsh UniLift IT-Runner hookloader system. That was over a year ago, and the intervening months have proved the move an unqualified success.
"The obvious advantage is that the UniLift IT-Runner acts as the sole chassis for multiple body types," said Greenworx director Brett Skelton, "so we don't have the unnecessary expense of having to buy complete new trailers. The system is time efficient too, as it's quicker to drop one body and pick up another than to disconnect and then re-connect all the electrics and hydraulics of the towing unit to various trailers. The fact is that UniLift IT-Runner is a whole step ahead in terms of both purchasing economics and operating productivity."
Towed by a 300hp Unimog for complete on/off-road capability, the twin axle ITR16.21/6 trailer has an unladen weight of just 4,900kg. This provides Greenworx with a 13 tonne payload allowance, well within the trailer's 16 tonne lift capacity from its heavy duty twin rams. Purpose designed to carry CHEM Type 20 Spec containers, UniLift IT-Runner's rugged construction delivers durability, especially when being used in off-road work.