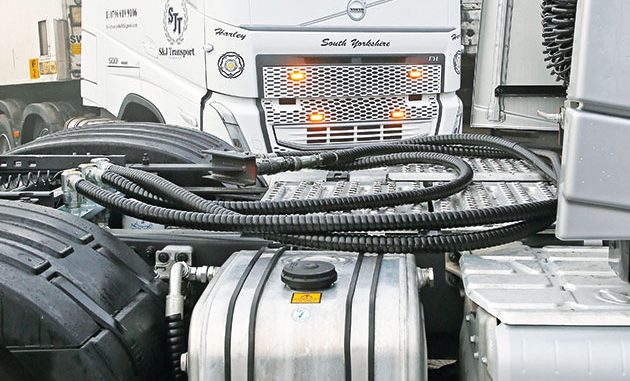 "WE'RE RUNNING pretty much flat out," said Steve Senior, owner of Barnsley based bulk haulier S&J Transport (Yorkshire) Ltd, "so it made good sense to invest in another batch of new trucks. As before, they are all Volvo FH tractors with Harsh wet kits, the best possible combination for tractor units on bulk and tipper work."
The seven new trucks work with both standard tipping trailers and high sided walking floors, which has required the Volvos to be fitted with a wet kit able to operate both types of trailers. The wet kits installed have their oil tanks coming no lower than the truck's exhaust pipe, maximising available ground clearance.
Operationally, the key to the Harsh system fitted for S&J is a simple control lever behind the cab that sets the system to work in either mode. If set to 'Tipper', then the trailer body is lifted by a standard raise/lower control lever mounted to the right of the driver's seat. If set to 'Moving Floor', activating the planks of the moving floor begins. From the driver's point of view, nothing could be simpler or more straightforward.