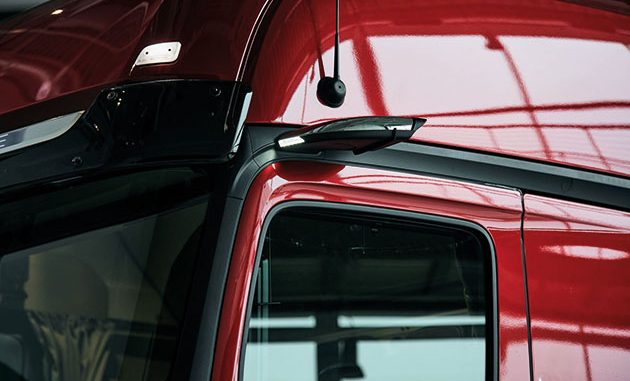 MERCEDES-BENZ has launched a revised version of its MirrorCam mirror replacement system, which was first launched in 2018 as the first mirror camera system for trucks. The second generation is available for the Actros and Arocs as well as eActros series.
One of the more significant changes are shorter camera arms. By reducing their length by 10cm on each side of the cab, they no longer protrude further than the kerb mirror, making it easier to judge their position, so reducing the likelihood of them being damaged by collisions with roadside objects. Mercedes also claims the new position is more akin to that of conventional glass mirrors, thus making it easier for drivers to reverse in a straight line.
A new drip edge has been added to the camera housing, preventing rain water from fouling the lens. The image quality has also been improved, aiming to make it easier to reverse in dimly lit conditions.