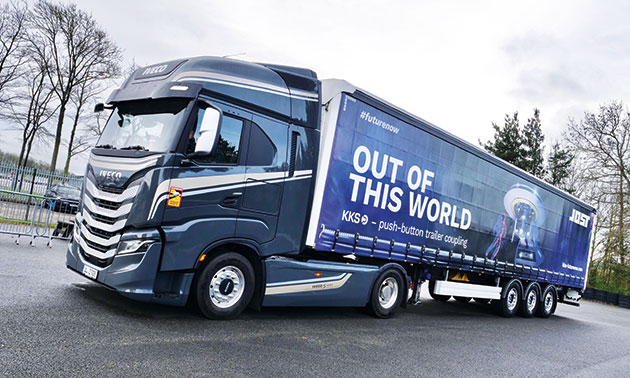 Winner of the Transport News 2021 Innovation Award, Jost has brought its automated trailer coupling system to the UK, writes Kevin Swallow.
LAST YEAR, German truck and trailer equipment manufacturer Jost captured the Innovation Awards at the inaugural Transport News Northern Rewards breakfast with its KKS, an automated coupling system for tractor units and trailers (TN, December 2021).
Now it has its UK launch. The push-button trailer coupling system removes the need for the driver to get in or out of the cab. It combines an array of pre-existing Jost systems like its Modul E-Drive automatic landing legs, electronic fifth wheel opening and closing, and remote-control systems.
KKS takes control of the automatic locking and unlocking of the fifth-wheel kingpin, the connection of the air, electric and brake lines, and lowering and raising of the trailer landing legs.