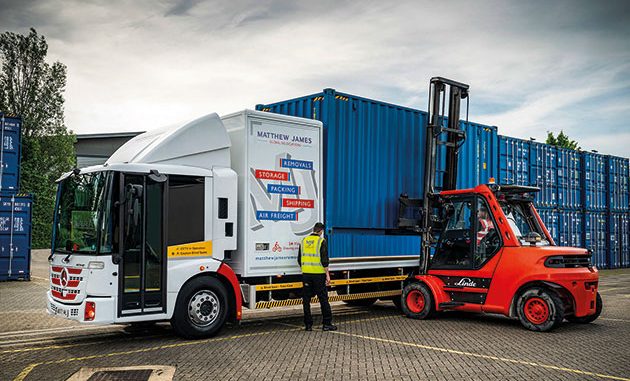 RELOCATIONS specialist Matthew James has commissioned a low-entry Mercedes-Benz Econic with direct visibility credentials that make it suited to removals work in and around cities.
The 4×2 Mercedes-Benz Econic boasts a deep, panoramic windscreen with a fully glazed, folding passenger door. The vehicle attracts a maximum five-star rating from Transport for London's Direct Vision Standard scheme.
As an 1830 L variant the air-suspended chassis is powered by a 7.7-litre in-line six-cylinder engine that produces 220kW (300hp) and is paired with a fully automatic six-speed Allison gearbox.
Preston based SBR Specialist Coachbuilders fitted a large storage box immediately behind the cab and a platform incorporating twists locks, for securing the 20ft ISO shipping containers it is designed to carry. Porters access the container via a ramp system.
Matthew James' new truck, which is also fitted with a 360o camera system by Hall's Electrical, is one of the first Econics to be used in a removals application.