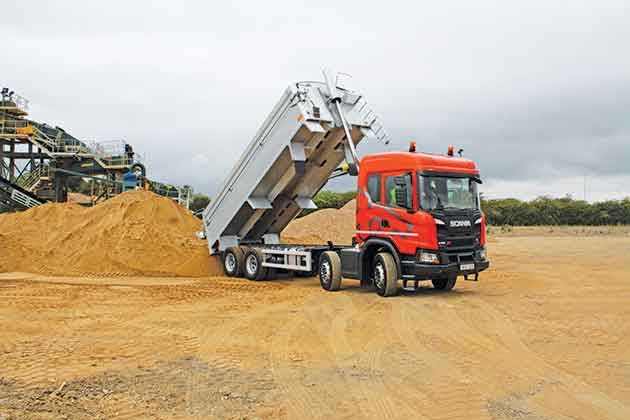 As a leading player in the eight wheeler sector, the construction industry often depends on Scania for innovative transport solutions. Kevin Swallow put the all new XT through its paces to see if it equates with the demands of Britain's modern tipper industry.
MULTI-AXLE rigid trucks, and more specifically tippers, were originally designed to generate traction on undulating and often on less than solid terrain using hub reduction axles on double drive bogies. These trucks were heavy and robust.
Gradually bulk transport, in both the heavy duty and lightweight sectors, became obsessed with payload, and trucks were stripped down to the bare bones. Eight wheelers were set up to carry 20 tonnes for muckaway and 21 tonnes for aggregate and asphalt, so the use of single reduction, double drive axles became commonplace.
Since the advent of Euro 5, the trucks have become heavier; compromising payload by between 500kg and a tonne (depending on specification). To offset that, manufacturers now concentrate on fuel economy, and the answer from Scania is the XT (eXtra Tough).
Launched in August 2017, it was part of the complete overhaul of its truck range line up by the Swedes; 'Next Generation 2.0' if you will, replacing the original 'New Generation' originally launched in 2004. For construction, the XT is part of a modular fleet of options.
Gone is the rigid list with the 'you can have what we built' mantra and in is a tailor-made approach that borrows from across the ranges.
At its launch, UK sales director for Scania (GB) Andrew Jamieson said the new trucks provided bespoke solutions for eight key construction industry applications; tipper, mixer, hooklift, skiploader, concrete pump, mobile crane, flatbed with crane and heavy haulage. 'All designed for purpose and featuring a selection of robust day cabs and a broad range of construction industry focused options,' he duly added.
MULTI-FACETED
The XT range is multi-faceted; 19 cabs and 11 engines on a choice of 14 rigid and seven tractor unit axle configurations.
It covers most things: The P-series cab choice includes three day and three sleeper cabs.
For Transport News, the primary focus is the G-series, which also comes with a choice of three day cabs labelled CG14L, CG17L and CG17N and three sleeper cabs, duly branded as CG20L with a low ceiling, CG20N with a raised ceiling and CG20H, the Highline and tallest cab available.
Should you want more, the R-series offers two day cabs and three sleeper cabs, and S-series can be acquired with a choice of two sleeper cabs.
Scania make the 9 litre engine available with three horsepower/torque options; 280/1,400, 320/1,600 and 360hp/1,700Nm.
At the opposite end of the scale the V8 16.4 litre is available with 4hp/torque ratios; 520/2,700, 580/3,000, 650/3,300 all SCR (selective gas recirculation) and the largest engine Scania offer, the whopping 730hp/3,500Nm, which achieves Euro 6 using EGR (exhaust gas reduction) and SCR.
In between is the DC13-148, 12.7 litre straight six cylinder engine that is set up to use diesel, hydrogenated vegetable oil and/or biodiesel, and it uses SCR aftertreatment only to achieve Euro 6. There are four power/torque output options; 370/1,900, 410/2,150, 450/2,350 and 500hp/2,550Nm torque.
All the engines are set up to deliver 600Nm torque for the PTO (power take off).
PLAYING IT SAFE
Scania (GB) decided to play safe for this road test, ordering the 450hp, which is really 444hp at 1,900rpm, and which produces 2,350Nm peak torque from 1,000-1,300rpm.
Gearbox is the automated GRS905 Opticruise 12 speed, which has two crawler gears and comes with the option of manual override. It is a direct top transmission, coupled with a 3.07:1 rear axle drive ratio. No messing about with the cab; it's the G-series normal sleeper cab, the medium size cab within that range.
Scania's test route starts and ends in Milton Keynes taking in the best part of 108 miles taking in the M1, M69 and A5 (see sidebar). The motorway is fairly level for the most part, although it does have some deceptive climbs after the M6 Catthorpe Interchange and the M69 does make the truck work to get back up to speed once you've joined it.
Throughout this section we only dipped below the cruising speed of 53mph to navigate slower moving traffic and at the behest of Scania Active Prediction (SAP).
Drivers can become a little frustrated with SAP as it appears to dawdle when it should crack on. However, wider tests conducted with Transport News shows that it saves fuel without losing any time.
In specific situations the driver can amend the settings to reduce the gap between cruising speed and the lower minimum speed before power kicks back in to aid progression when its needed.
With so much power and torque available there is little on the motorway section to trouble it, but the A5 was a different matter. It is undulating and makes the truck work. Here, using the Driver Support function, you can get the best from the engine.
Driver Support measures anticipation, use of the engine brake, cresting hills and excessive use of the accelerator. Anticipation is the key. Approaching a roundabout, for example, it's imperative to come off the pedal early, wait, then engage the engine brake to slow the wagon and, if the traffic gods are in favour, proceed without touching the brake pedal.
It takes some getting used to because the temptation to use the brake pedal is second nature, and there are going to be times when you do have to stop the truck! However, taking the edge off braking by using the engine brake is widely encouraged.
Learning to trust your judgement and anticipation helps improve your skillset, and it also helps that the exhaust brake is extremely responsive, especially if the revs are up in the blue section at 2,000-2,200rpm.
REBUKE FROM DRIVER SUPPORT
Cresting hills when not using the cruise control means judging distances. Get it wrong and you end up dabbing the accelerator just to reach the top, which creates 'zero stars' and a rebuke from the Driver Support function.
While mentally trying to get to grips with the software, the handling can go unnoticed. It is a remarkably smooth ride, more long haul than traditional tipper. There is no flinging it into corners or battling the tyre scrub in tight situations. It's light and precise and without understeer, which is usually the bane of a truck drivers life when on site.
Specifying the sleeper cab will add a few kilogrammes to the kerbweight, but it becomes a professional working environment.
The driving position is moved slightly forward to the windscreen and closer to the door, which along with an enhanced, larger surface area of glass, slimmer A-pillars, and a lowered and reshaped dashboard vastly improves visibility.
The ceiling of the 'normal sleeper cab' is now 100mm higher than its previous G-series equivalent; 1,800mm from the footwell and 1,456mm from the engine tunnel. This helps create a spacious, airy cab with plenty of storage.
The umpteen shades of grey interior is uninspiring, but the quality of the finish and the materials that are used are first rate and durable. Ideal for tipper work.
Driver's equipment can be stowed under the bunk, or above the windscreen, and the pull-out drawer from under the bunk is pretty deep. What's more, the door pockets are wide enough for litre size bottles.
Of all Scania's 'Next Generation: 2.0' launches, the XT is the most significant because the multi-axle rigid is the one area it dominates, along with DAF and Volvo.
For all its technical wizardry, this wagon is not a point and steer. It delivers a robust performance when it has to, with enough subtlety and refinement to make the driver check in the mirrors to see if they are still in a tipper. It is a quality motor, perhaps something more than appropriate for the construction industry.
Operator's Verdict
LAST YEAR Earthline, a large independent earthmoving, recycling and quarrying company, upgraded its fleet with 26 new Scania tippers. With more than 70 tippers in their livery, Earthline ordered a selection of 410hp Scania XT P- and G-series 8×4 trucks.
'Designed for arduous operation, XT vehicles boast a tough exterior including a steel bumper, robust rear view mirrors, suspension designed for heavy duty usage and headlamp protection,' enthused Malachi Chambers, general manager of Earthline, who confirmed that the trucks are on a two year repair and maintenance plan that comes as standard on Scania construction trucks and have opted to take a third year driveline warranty.
'Uptime is important to any business,' he said, 'and ours is no exception. So, working with a company who we feel also cares about our wheels turning is great. The effort that the service team at Scania Swindon make is amazing. Alongside the product, they are one of the reasons we buy Scania.
'With the amount of new technology and features on the products, we decided to go with the repair and maintenance package because we know they're being looked after by Scania's trained technicians who know the product inside and out.'
Earthline also chose to add a Brigade Electronics six way recordable camera system with Sidescan as well as Scania City Safe windows in all their new cabs, all for the added safety of vulnerable road users, increased visibility and convenience.