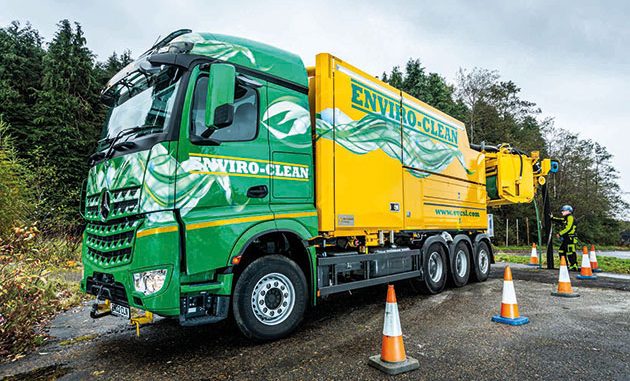 ENVIRO-CLEAN Scotland's latest, eight-wheeled Mercedes-Benz sewer-cleaning truck is a 'green giant' in more than one sense, as well as sporting the company's distinctive verdant colour scheme, it is also reducing both water and diesel consumption.
Supplied by dealer Western Commercial, the Arocs 3258 is equipped to save up to 15 million litres of clean drinking water every year, and capable of doing the job of two or more trucks.
The vehicle's muscular 425kW (580hp) 15.6 litre 'straight six' engine provides the 'grunt' needed to drive its powerful jetting and suction gear, which was built and fitted by German specialist Wiedemann. The 8×4 ENA chassis has a single front axle, a double-drive bogie and a steering axle at the rear, and offers a level of manoeuvrability comparable to a six-wheeler.