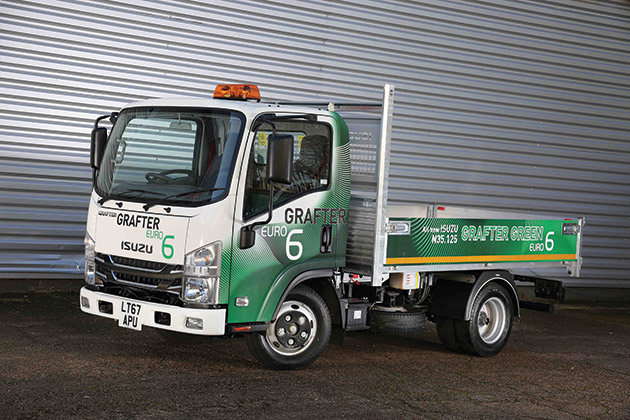 Isuzu Truck (UK) has given its Grafter chassis cab a revamp with a new, smaller but more powerful engine and increased its body and payload potential. Kevin Swallow braved the wintry conditions to see if the new look pick-up is the sum of its parts. 
SINCE its introduction 22 years ago, Isuzu Truck (UK) has established itself as a leading light commercial manufacturer. Its strength across the range remains the payload. The only thing Isuzu has lacked is the refinement of bonneted chassis cab vans where you sit behind the front axle. But that is something all manufacturers of cab forward designs struggle to match with the seats over the front axle.
At 3.5 tonnes the Grafter has always marketed itself as a favourite of the construction, trades, civil engineering and local authorities sectors. Grafter Green was officially launched in March this year with an array of new features that include a smaller engine, front suspension, reduced noise levels and lighter chassis.
Firstly, this Euro 6 commercial vehicle doesn't require AdBlue thanks to a Lean NOx Trap. The 1.9 litre four cylinder engine is the same one used by the new Isuzu D-Max 4×4 sold by the 'separate' Isuzu. It is badged as a 125hp but its true rating is 121hp.
This replaces the older, heavier 3.0 litre engine, which delivered 118hp. Like for like with the older N35.120 twin rear wheel tipper the Grafter Green is more than 100kg lighter. Out goes the five speed transmission replaced by a six speed manual. The front axle weight is 2.1 tonnes, and with a braked trailer it meets a 7.0 tonnes gross train weight.
Both the single rear wheel and twin rear wheel Grafter Green chassis cabs are part of the Isuzu Truck Driveaway pre-bodied truck programme. On the back is a TGS built Tippa aluminium dropside tipper body.
The aluminium design means it is corrosion free construction. Control for tipping is a wander lead remote. It has a two way hinged tailboard, and galvanised removable rear corner posts.
Critical is the kerb weight, with no driver and without fuel it weighs in at a mere 2,244kg, which means 1,256kg payload. If a twin wheel RWD isn't required you can go for the single wheel rear axle N35.125(S) option which will increase payload by 109kg.
Isuzu has also retained its 3.0 litre, 150hp engine with a 'Grafter Blue' version. This truck uses AdBlue and weighs in at 2518kg, offering 982kg of payload.
For several days Isuzu Truck UK provided Transport News with the Grafter Green N35.125(T). Needless to say, tackling Cumbria as the 'Beast from the East' laid waste across the UK was a challenge in itself, and thankfully, with it being a double rear wheel drive, we didn't get jammed anywhere on the snow and ice.
From the outset you can't help but be impressed by the 121hp engine. It is lively and responsive, and carries the 3.5 tonnes GVW comfortably. The decision to go with a six speed is justified with a smaller engine. To get the best from the 320Nm peak torque from the 400rpm narrow peak torque band between 1,600 and 2,000rpm from a standing start, you need to change smartly between first gear and fourth.
And you do need to find the right gear at the right time. For example, from a roundabout, third covers a multitude of sins from crawling along judging a gap in the traffic up towards 20mph. Try the same situation in second you'll need a change to progress, try it from fourth and you'll struggle to get away timely.
Handling is improved thanks to the new independent twin wishbone coil spring system that incorporates the rank and pinion steering. It delivers a more concise steering, so considering it's going to be used in urban environments that cannot be underestimated. The 2,480mm wheelbase gives the chassis a compact feel, and it can fit into the tightest of spaces.
That new independent front suspension also helps take the edge off the many potholes on Cumbria's roads. It delivers a better ride quality, but being sat over the front axle doesn't help the cause.
Noise reduction is a key feature too with Isuzu claiming the Grafter Green delivers less than 70dB(s) while on the move, a 7% drop from the old 3.0 litre engine.
As a cab forward the Grafter Green does not have storage space under the seats or between the driver and passenger seats. Instead there is storage above the windscreen and you can pull down the dual passenger seat for more flat surfaces. It's narrow and three up is a squeeze. If you start adding personnel and bags and coats, it maxes out quickly.
Despite the lack of space it is comfortable to drive and in that respect Isuzu does play to its strengths: It's functional, it handles well and with a new low duty 1.9 litre diesel engine, it's perky. No AdBlue means operators will get the net benefits for fuel economy without having to constantly remember to 'fill the other tank'.
The enhancements give the Grafter Green a decent step forward, and we warmed to it, in fact, it was a shame to hand it back!