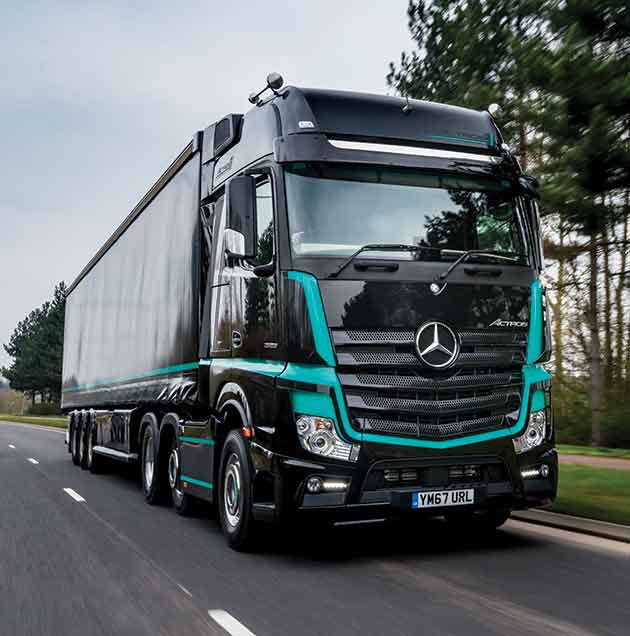 Limited edition trucks always cause a bit of stir, especially if they are presented well. Fresh from testing MANs PerformanceLine, Transport News got its hands on the Actros1 from Mercedes-Benz. To see if this fancy motor can pay its way, Kevin Swallow took it round our gruelling Scottish test route…
THIS IS the second limited edition truck Transport News has put to the test. The first was MAN's TGX 26.640 (TN, May 2018) packaged as the PerformanceLine, restricted to just 100 units. With 640hp from the D38 engine rumbling underneath an XXL cab, 'steel blue' paint job and an interior rammed with optional extras, it would put any penthouse suite to shame.
With the benchmark set, how would Mercedes-Benz Actros1 fair? It's target audience are no shrinking violets. Owner drivers and family run hauliers know what they want, and are not shy in saying so if they're disappointed.
Like the MAN, Actros1 is limited to just 100. Unlike PerformanceLine, Actros1 has its own website; Google Actros1 and it pops up top of the list just below 'Did you mean: actros 1'.
So, what does the operator get by spending a little extra to purchase an Actros1? First, each truck comes with a Certificate of Authenticity and the owner, or the driver, gets an Actros1 watch complete with logo.
As for the truck, the workspace is the L-Cab GigaSpace. Livery is a choice of Actros Silver and Actros Black, and driveline is either the 15.8 litre OM473 with nominal 630hp and 3,000Nm of torque, or the smaller 12.8 litre OM471 delivering a badged rating of 530hp and 2,600Nm.
More notably this truck is geared up for overweight activity up to 68.0 tonnes, which falls into the Road Vehicles (Authorisation of Special Types) (General) Order 2003 (STGO) Category 2 plated for loads not exceeding 80.0 tonnes.
There isn't enough room to list all its additional fineries in the specification but the key elements are as follows; performance includes PowerShift 3 transmission, Economy Package, Active Brake Assist 4 (ABA4), tyre pressure monitoring and Predictive Powertrain Control (PPC).
The interior includes a leather covered steering wheel, a pull-out refrigerator and premium comfort mattress with custom Actros1 bedding.
For entertainment it's a seven speaker sound system and subwoofer multimedia radio that includes Apple CarPlay and Android MirrorLink.
Both driver and passenger get leather covered seats with massage function, it has Actros1 colour coded floor mats, Actros1 door and cab plaques. The exterior has roof mounted air horns, front under bumper spoiler, painted catwalks and side guards, Alcoa Dura-Bright wheels with colour coded hubs and a black painted chassis.
For the Transport News road test we landed the powerful Mercedes-Benz Actros 2563LS 6×2 mid lift tractor with the 15.8 litre six cylinder diesel engine that delivers 617hp and 3,000Nm torque.
What surprised me from the outset is just how quiet the Actros1 is when it's up and running. There is a distinct rumble, but you have to pay attention to the engine to actually hear it. The dominant noise was provided by the subwoofer as it gently oozed the repetitive bass of James Brown's The Boss from the soundtrack of the film Snatch (co-pilot's choice). All this certainly set us up for a day of serenity with attention given fully to the road and surrounding traffic.
Installed as part of the package is Mercedes-Benz PPC and this goes some way to tempering that raw unadulterated power and torque that is available should you require it. PPC comes off the power to coast over the top of most of the hills we climbed and happily slotted into eco mode on the downhills and flat to reduce fuel use.
Like many competitors, PPC uses GPS (Global Positioning System) data with 3D maps to scan the road ahead. Once you've activated it, it will make your decisions for you. There will be times when PPC will test your patience! Road speed will rise and fall to greater extremes than simply using the standard cruise control that will drive up and over hills and use the secondary braking to reign you in.
The positives are that you will improve fuel consumption and arrive no later to your chosen destination using PPC. You'll need to adjust how you drive because there will be times when the truck slows and traffic will come streaming past no doubt wondering why you are going nowhere fast.
It was only when the truck approached the first real arduous hill climb over the two summits at Beattock that it started to show signs of making any real effort. As this truck is also designed for 68.0 tonne operations, STGO Cat 2, the rear axle final drive is 3.73:1, which means revs are higher at 56mph.
Being geared up to use slightly more power than lower rev set-ups allow it to tackle hills with more oomph. On the first recorded climb on the A9 at Cairnie Braes towards Perth, the Actros1 recorded three minutes and 12 seconds, the quickest time to date. That is three seconds quicker than the Volvo FH540 6×2 tractor unit (TN, January 2018) that boasted 532hp and 2,600Nm torque from its 12.8 litre driveline.
And it was five seconds faster than the MAN TGX.640 (TN, May 2018), which boasted 631hp and the same amount of torque. The PerformanceLine also ran with a taller final drive ratio of 2.53:1 so it had fewer revs on the clock at the base of the climb.
While all the trucks hit the hill at 50mph with a little extra rpm to play, with the Actros1 only changed down to 11th gear, whereas the other trucks running at lower rpm at the same speeds have so far hit 10th gear.
Unsurprisingly, Actros1 also took the honours climbing Balmanno Hill on the M90 southbound. Starting from J9 at Bridge of Earn, this is a 3.6 mile stretch with a 7% climb. At four minutes 16 seconds it beat the Volvo FH540 by nine seconds. Again, it only dropped a gear when tackling the toughest part of the climb.
On the descents, the Turbo Retarder Clutch, necessary if you are going to run at STGO Cat 2, provides smooth, 'wear free starting and braking under extreme loads' according to the German manufacturer. The integral, high performance retarder has 750kW braking power and saves a little weight, 80kg, compared to a conventional torque converter clutch.
While driving is a comforting affair, when it comes to relaxing the cab interior rivals PerformanceLine for panache. Storage is voluminous; overhead lockers above the windscreen and on the backwall contribute to more than 1,000 litres of luggage space. This utilises space above the bottom bunk well; a second bunk, unless it's there for genuine two person occupancy, is superfluous. That single bunk option gives the cab a more personal touch.
Refrigerator and microwave gives the driver enough scope to store short life, heathy foods and cook without relying on the beige food group usually found roadside.
As an owner driver or family run haulier, it's worth knowing that Actros1 is supported by Mercedes-Benz Complete with Uptime Service Contract for two years or 340,000km, whichever comes first, with full repair and maintenance.
Having put two limited edition trucks through their paces on the Transport News test route, it would be fair to say choosing between MANs PerformanceLine and Actros1 would be down to what you want from a vehicle. All things considered Actros1 holds sway in several areas; it was fitted with PPC (MAN didn't have its EfficientCruise), quietness and handling, and the flat floor leads to a better designed interior for Merc.
One change I'd make, is to replace the rear axle ratio for something more fuel friendly at 44 tonnes GVW, otherwise it's spot on. Any owner driver would be proud to have this as their prize wagon. It exhibits the latest product developments from Mercedes-Benz, puts safety first and backs it up with a strong performance. It is a proper flagship, and as such hauliers will indulge in something special to stand out from the crowd, enough even to earn the title of The Boss!
Operator's Verdict
THE FIRST of the 100 limited edition Mercedes-Benz Actros1 trucks on offer in the UK was snapped up by Pollock (Scotrans). Based in Bathgate, this truck arrived via the Broxburn branch of central Scotland dealer Western Commercial and made its first appearance at Scotplant on the dealer's stand.
Its driver is Allan Holt. The truck will be based out of TruckHaven truckstop, Carnforth, and he has already taken the truck to Truckfest, Peterborough, where he won second prize in the organiser's Best Kept New Truck competition.
Its specification is a 2563LS 6×2 chassis with a range topping GigaSpace cab and powered by the 15.8 litre straight six delivering 616hp. 'I've tried various makes of truck in the seven years I've been working for Pollock (Scotrans), and the Actros options have definitely been the best,' Allan said.
'The up-rated multimedia entertainment system is brilliant, the leather massage seats and Premium Comfort mattress supremely comfortable, and the additional rear overhead lockers are really useful.'
Pollock (Scotrans) managing director Scott Pollock said; 'Allan is a skilled and highly valued professional who looks after company assets as though they were his own. It's for this reason that we were happy to indulge his request for the Nordic bars and other enhancements. The result is a fantastic new flagship for our business.'