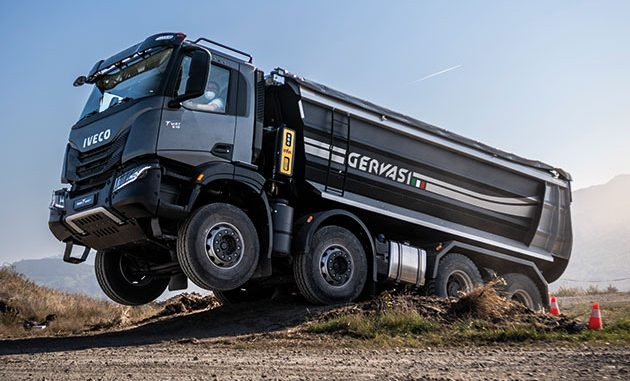 Between coronavirus travel red lists, Iveco flew several journalists out to Italy to drive its new T-WAY around a quarry on the edge
of Bologna. Gordon Roberts reports.
BY AND large journalists, even practicing 'lorry driver' journalists, are kept out of harm's way. Given straightforward A-to-B routes through scenic terrain or an off-road test track with pot-hole free asphalt and purpose built gradients is the usual fare with driving time counted in minutes rather than hours.
From those morsels we're expected to drum up an 'experience' as well as a 'summary' of the new product many will be expected to buy and use.
However, tippers tend to be given a bit of licence to thrill, and Iveco came up with steep gradients, very rough road surfaces and all done in blinding heat and light. Clearly, the sort of environment in which the new Iveco T-WAY would be expected to excel.
The T-WAY, a replacement for the Trakker, was launched last year. T stands for 'tough', which gives you an insight into what our hosts had planned.
With a heavy-duty metal bumper, with its superior angle of approach, there are other physical differences between this and the more road-friendly X-WAY. Its chassis is 10mm thick, compared with 7.7mm for the lighter X-WAY, it has a 32-tonne robust tandem axle, compared with 23 tonnes for the X-WAY, which allows it to be specified up to 50 tonnes gross vehicle weight when operating off-road.
Also, there is no wider cab, just the 2.3m wide AD cab as a day or sleeper. Plus, its one engine fits all; the Cursor 13 at 450, 480 or 510hp. There's no 570hp version, the narrow cab doesn't have the necessary cooling ability.
For a lap of the quarry, I have the T-WAY AD410T51 with the day cab, 510hp engine and the air-conditioning on full blast – here the temperature is past 20 degrees. Inside the cab 'Spartan' best sums up its specification. Infotainment options akin to S-WAY are available but they aren't fitted in this cab. Additional specification includes rear multi-leaf suspension, hub-reduction axles, and Michelin X-Works HD tyres. Finally, to extenuate the experience of driving a left-hand-drive truck around a quarry that has more peaks than Ben Nevis and more blind bends than a single track road heading round Gairloch, it's fitted with a manual 16-speed ZF Ecosplit box.
THE MANUAL
The manual transmission it turns out is for us, as in 'us the journalists', although we're told that the Brit operators also like a manual. Most European-spec T-WAYs will have Hi-Tronix auto gearboxes.
It's a four-over-four with a splitter but the off-road drive is slow and there are few opportunities to get the truck into the high range. Mostly I'm in second or third but the ponderous pace is in keeping with the terrain – bits of the quarry remind me of the last sequences on The Italian Job.
With the inter-axle diff lock engaged, there seems to be nothing that this truck won't tackle.
It appears to defy physics as it slowly but surely climbs some impossibly steep hills. And it's the same story going downhill too, the ZF Intarder making the footbrake redundant most of the time.
Between the ups and downs there are opportunities to accelerate and to do what the Italians want, to 'Treat It Bad'. This marketing slogan can be misconstrued as the tipper industry already has enough drivers who do this without any prompting from the bosses.
I think the Italians really want anyone who drives this tipper to push it to the boundaries of what the driver can do only to find the truck can cope, and so to push some more. And it is a very capable truck, so despite the left hooker, the terrain, the small cab and the manual gearbox being marshalled by the right hand (there are times I have to remember that third and fourth gears are away from the body) this driving experience is remarkably enjoyable in part because of the concentration needed to keep it on the dusty, uneven, switch-back gravel roads.
X-WAY
For a compare and contrast, I have a drive of the X-WAY AS360X57Z, which shares the same Active Space cab as the S-Way. It's got the top-rated 570hp version of the Cursor 13, which seems rather excessive for an eight-legger.
The X-WAY is more flexible in terms of configuration, and can be specified with a choice of three set-ups: ON, ON+ and OFF-ROAD, this being the middle one. Considering what T-WAY has just done with the route, X-WAY is attempting the same with its Hi-Tronix gearbox ably supported by the hub-reduction drive axles.
It would be easy to suggest the extra horsepower comes to the rescue but it climbs the same route just like the T-WAY. On some of the steepest gradients I simply press the 'D' button to select the semi-automatic mode, and then choose a suitable gear for the ensuing ascent or descent.
What's more, Hi-Tronix adds a few more functions specifically intended for off-road mobility, like Hill Holder and a Rocking Mode, to help recover traction in slippery conditions. You also get more on-road safety aids, including ESP, ACC and AEBS.
UK SPECIFICATION
Although the T-WAY is available in right-hand-drive, and can be ordered in the UK right now, it doesn't form part of Iveco UK's main range offering, and having just driven an X-WAY I understand why.
Unless you require something that never leaves the excavation, quarry or mine, and can take advantage of the additional GVW, I struggle to see why anyone would need one over an X-WAY. And don't forget, the X-WAY can be specified in OFF-ROAD mode too, making it even more capable when the going gets rough.
Should you require T-WAY however, then there is a lack of cab and engine options, and specifying the manual gearbox deletes some safety functions. That said, the truck was put through some horrendous challenges and emerged with honour. It looks and acts tough and these days there aren't many trucks that meet that brief.