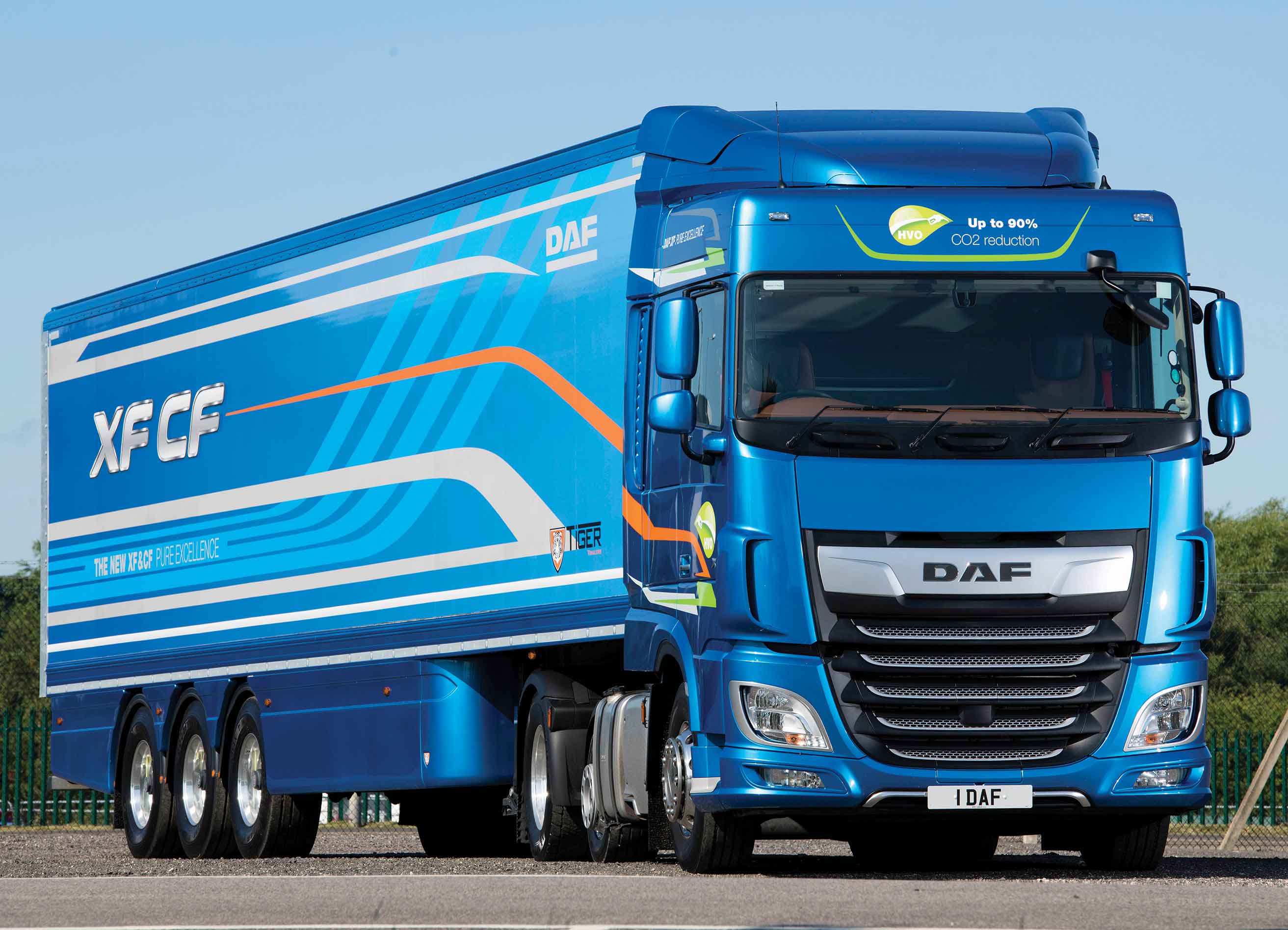 It's easy to over spec a truck and make it too heavy with too much power, so the DAF XF480 with a small mid-axle and Space Cab serves as a timely reminder that you can get the power and weight ratio right without compromising the comfort, discovers Kevin Swallow.
FOR ONCE the Transport News road test didn't take in Scotland's central belt, Perth and Kinross. Instead time constraints led to DAF Trucks putting their XF480 FTP tractor unit around the north of England, taking in Lancashire, Yorkshire and Cumbria, classic bulk transport country.
Aggregates, agriculture and asphalt dominate this region, hauliers like McGuinness Feeds in Preston to Bulmans Bulk in Penrith transport loose bulk material nationwide and are well versed in getting a competitive kerbweight from their trucks. The FTP, fitted with a lightweight fixed mid-lift axle, is a common sight on numerous fleets.
In 2017 DAF Trucks gave its engine range an overhaul; horsepower was increased by up to 20hp and torque via a new multi-torque function in top gear that can offer an additional 100 to150Nm on the highest gear.
Eleven months ago (TN, November 2018) the XF480 6×2 FTG (twin steer mid-axle) was put through its paces. Its specification included a Super Space Cab, a 3,950mm wheelbase and 490 litre diesel tank. Without a driver it weighed in at 9,047kg.
What that test introduced was DAF Trucks' move towards 'down speeding'. In top gear the bottom end of the peak torque band dips below 1,000rpm towards 900rpm, aided by new rear axles with new final drive ratios. On R60 wheels 2.05:1 final drive is now available, on R70s the lowest final ratio option with a direct drive transmission is 2.21:1 (fitted to this test truck).
Across the range there are various innovations for lighter specification. The new generation 6×2 XF is 130kg lighter made with a series of refinements, but the most significant is the new, smaller after treatment system that saves 50kg.
For this test, DAF Trucks specified the XF 6×2 FTP badged at 480 with the Space Cab. The 12.9 litre MX13 engine complies with Euro 6 emissions using exhaust gas recirculation (EGR), together with a diesel particular filter (DPF) and selective catalytic reduction (SCR).
Operators can buy the FTP with the MX11 engine with the 450hp and 2,200 to 2,300Nm. Otherwise it's a choice of three power options for the MX13 nominally badged as 430, 480 and 530hp, each with additional torque at low revs in the highest gear for direct drive gearboxes and in the two highest gears for overdrive gearboxes.
The 480 has a true rating of 476hp peak power at 1,600rpm. With a direct drive 12 speed TraXon automated gearbox the first 11 gears benefit from 2,350Nm peak torque between 900 and 1,365rpm, while in 12th gear its 2,500Nm between 900 and 1,125rpm.
The mid-axle is a lightweight pusher with a 4,400kg GVW axle that gives the overall plated gross weight for the tractor unit as 23,900kg, 2,100kg lower than the FTG with its twin steer mid-axle. This wagon also has two diesel tanks, catering for 930 litres of fuel, which in this case is HVO (hydrogenated vegetable oil). Additional specification of note is the lack of sun visor.
Overall the FTP tractor unit weighs in at 8,432kg. Had it been fitted with a 510 litre tank like the FTG then it would have been 8,080kg, which is more than a tonne lighter.
To go one step further, with a 510 litre diesel tank and the MX11 450hp engine then the FTP would be 7,900kg (full tanks and no driver).
DOWN SPEEDING
Heading towards Preston on the M6 provided a chance to see just how much 'down speeding' the truck was capable of doing. At 56mph it works happily at 1,050rpm. Lower the road speed to 53mph and the engine will work happily from 950 to 1,000rpm.
Adaptive cruise control (ACC), predictive cruise control (PCC) with eco-roll and the eco-setting on the transmission were all engaged. It dropped a gear on the climb from Lancaster at J33, rolled over the top using PCC and then gathered speed on the descent towards J32 for Garstang.
All manufacturers offer their versions of PCC. It is essential for all hauliers as it saves fuel without the driver having to eke out a solid fuel return with an ever present vigilance on climbs, hill cresting and descents. PCC offers consistency.
On the levels towards J31 (for Preston and M55 to Blackpool) eco roll did kick in occasionally but here it's more about working harder, more utilising the torque than relying on the power. In top gear with a little extra oomph is where it pays to get the power to weight ratio right. While 480 isn't the highest ratio, the torque is the equivalent of the original 530rpm, which means more bang for your buck by buying something not so powerful.
On the A-road section between Preston and Skipton where the truck can do 50mph safely it's on the cusp of 900rpm. With PCC available it will drop gears quickly to anticipate climbs but invariably it's the driver dictating terms to the driveline with the right foot.
As such, it'll drop one or two cogs when asked by the gearbox once it recognises excess load being placed on the driveline.
While handling is exemplary, what is of greater importance for the operator is progression. The 480 engine and its torque characteristics work hard to keep the truck moving at a decent speed.
Even when it does dig deep to climb, enhanced torque levels and down speeding combine to help it recover cruising speed quickly and efficiently.
Another weight saving specification is the Space Cab, which is 68kg lighter than the Super Space Cab. The floor plan is identical with a 150mm engine tunnel height, with standing height in the Space Cab at 1,735mm, some 370mm lower than Super Space Cab.
Despite the reduced space, DAF Trucks has given the FTP its top of the range interior Exclusive Line, which includes leather steering wheel with leather door covering and Xtra leather seat with air suspension.
Interior colours are brown (or 'cognac' to give it's official colouring) for selected parts of the dashboard, door panels and seats. It has two bunks, although headspace is 555mm for the lower bunk and 550mm for the upper bunk.
The lack of internal space won't bother too many as the average height for men in the UK is 5ft 9in (1,753mm) and for women its 5ft 3in (1,616mm), according to the Office of National Statistics. However, going two up might cause a few issues.
What DAF Trucks do well is cater for specific markets and bulk transport is one of its strongest sectors. Operators want payload, and FTP can be specified to get below the magical 8,000kg with the MX11 engine.
This truck, with the best part of 1,000 litres of diesel and AdBlue on board, still weighed in at a competitive 8,432kg.
Usually, as illustrated by Abbey Logistics, bulk hauliers go for a mixed specification to cater for local and distance work.
While it's already been established that the down speeding works well, there is some anecdotal suggestions from drivers that starting from a lower rpm on hill climbs can lead to a more laboured ascent. I don't agree with that, in PCC mode the engine responds quicker to get the right gear. And even if the driver is dictating terms via the accelerator and changes are more elementary it is still working proactively to climb in a timely fashion.
Specified sensibly the FTP can give you payload and power, and although the working environment is smaller in the Space Cab, it does not scrimp on comfort. This has all the makings of a gaffer's truck with all the trappings of an owner driver's motor.
Case study: Abbey Logistics
IN JULY 2019 bulk haulier Abbey Logistics took delivery of 20 DAF XF FTP lightweight mid-lift 6×2 tractor units onto its fleet as part of a £1.6 million investment into its bulk liquid and bulk powder operations.
The deal comprises 16 XF480 FTPs with the MX13 engine and four XF450 FTPs with the MX11 engine, all fitted with the Space Cabs. Twelve of the trucks are equipped with Gardner Denver discharge equipment, and eight with Mellor systems.
The new DAF XF fleet order will bring the Abbey Logistics fleet total to 350 and comes following significant new business wins over the last six months, including new work from blue-chip customers in the baking, polymers and building materials industries.
Steve Granite, CEO at Abbey Logistics, says the order demonstrates the direction in which this company is heading. 'The last six months has seen some significant business wins. And it's no surprise that we have placed our faith in the DAF marque. The three axle XF tractor is a proven model, it's super reliable and our drivers love the Space Cab. Crucially, we know we will receive fantastic back-up at both local and national level through the DAF dealer network.'