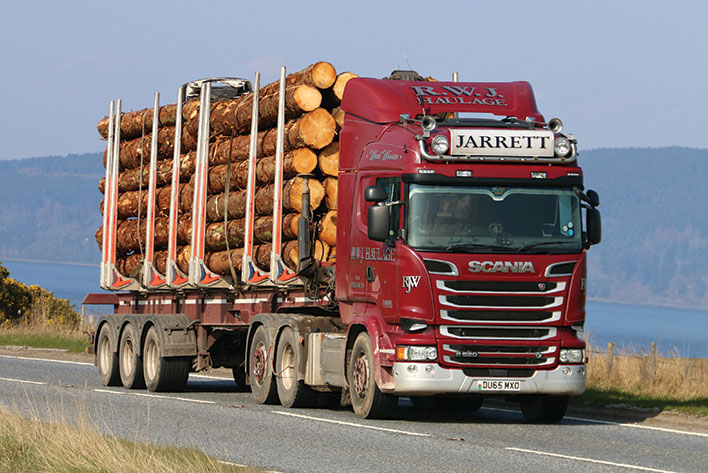 Since passing his HGV Class 1 as an 18 year old, it has taken just four years for Ross Jarrett to become an owner driver. Now he has invested £250,000 in a new Scania R650 V8 and Dennison log trailer. Regular contributor
Ian Lawson caught up with him out on the road.
WHEN I meet Ross Jarrett in Dingwall, he had already delivered a load of logs to Mosstodloch in the Highlands before reloading a load of pulp wood at Glen Fiddich, just north of Dufftown, for Norboard's board factory near Inverness.
It's now late morning on a beautiful September day, the 22-year-old owner driver having started at 4am. Ross is no stranger to publicity; he was featured in sister title Truck & Driver (March 2016) while working for Steven Barclay of Seafield Park Transport, having gained, aged 18, his LGV Class 1 under the Young Driver Scheme.
He acknowledged what Steven did and is thankful for the opportunity he was given. He then moved to James Jones & Sons, followed by a short period with B Cormack & Son before returning to operator James Jones in early 2018.
His ambition, however, was to run his own truck and he successfully became a full-time subbie for James Jones in July 2018. He had the option of buying a suitable tractor unit, kitting it out for round timber haulage with an appropriate pump and hydraulic oil tank, a central tyre inflation system and duly acquiring a trailer.
All this would have taken some time, however, so he chose a more direct route and headed to Wales, where he bought a 65 reg Scania R520 Highline Streamline 6×2 tag axle unit complete with a round timber crane trailer that had run with the unit from new with Welsh timber haulier Kieron M Owen.
He drove it home on the Saturday and was ready to start work the following Monday. Kieron let him rent the trailer for the first couple of months and then pay for it once cash flow became regular; a gesture much appreciated by Ross.
It has to be said that not many sellers would have given such flexibility to a new start purchaser. The R520, which had covered 240,000km at the time of purchase, served Ross well, as in its 13 months and 125,000km with him, the only failure was a burst radiator.
Ross occasionally found it difficult to get full weight on the 39ft trailer so in October 2018 he placed an order for a 45ft Dennison trailer complete with cab-mounted crane, and, via Scania in Aberdeen, a new R650 6×2 tag axle unit with manual gearbox.
His principal aim was to have the new unit on the Scania stand at the local Black Isle Show at Muir of Ord on 1 August 2019. The Dennison trailer was ready for collection in April, having been kitted out to Ross's requirements by FTM Ltd (short for Forestry Transport Maintenance), based at Shrewsbury in Shropshire.
FTM was happy to take the existing trailer as a trade in against the new one, which cost £100,000. The new Scania R650 arrived in the UK in late June 2019, ironically at the same time as James Jones announced that, in future, work would be much quieter.
Many owner drivers would have been panicked by such a statement into cancelling the new unit, but Ross is made of sterner stuff.
Pleased with FTM's work on the trailer, he also handed over the Scania to the company for the extra kit he required. As Geoff Jones Commercial Refinishers, which was able to do all the paintwork, including the chassis, is located next door to FTM, it was effectively a one stop shop.
Ross explained: 'FTM fitted all the lights, front and rear infills, suzie A-frame, the double light conversion on the rear and wing infills. They also moved air tanks, placed hydraulics, Big Foot tyre kit, pump and crane electrics, side-pipe change-over valve and every other extra you see on the lorry.'
The trailer has an LH Weigh Pro weighing system, while the crane is an Epsilon M12L with cabin and Autolube. Timing was tight, but Ross managed to collect the truck and get it home to Dingwall on the morning of the two day Black Isle Show. Scania UK wanted it on its stand at Truckfest Scotland, Ingliston the following weekend and then featured on the front cover of Transport News (October 2019). It then went back to FTM for completion of some minor work.
Subsequently it made a final 2019 show appearance complete with trailer at the Forestry Exhibition held at Elvanfoot, near Beattock, before being brought home and put to work in the final week of August, the R520 having been sold the previous week.
As I climb aboard, appropriately, R650 RWJ (the trading name is RWJ Haulage), Ross explained what was happening: 'We are off to Novar Estate, near Evanton (about 10 miles), for a load of slats for Dingwall Sawmill, which will give us four bolsters.'
What, I asked Ross, made him opt for a manual transmission? He replied that it provided better control in the woods. 'When others tell me an automatic is superior, I ask what do they in the woods and they all say; 'put it in manual'. So, I may as well have a manual. I am told this was the first manual R650 Scania 6×2 tag axle model in Scotland.
'An overall 5.6mpg fuel figure is already an improvement on that of the 520 and that should get better, plus the journey times are quicker. This is also the first complete outfit FTM has supplied to the north of Scotland, but the company promises full back-up, stating that the distance is no object. I have full confidence in that promise being honoured should a problem arise.'
The loading point, about a mile into the wood, is partially in the shade and, with huge shadows being cast by a clump of trees, it's not ideal for taking pictures. With mandatory hard-hat and hi-vis jacket on, even though no one else is working in that area, the load is quickly put on and strapped down. A narrow local authority road takes us back to the B976, which at least is double width, and then we're back on the A9 for the short journey to Dingwall.
I comment on how quiet and comfortable the big V8 is. As we turn to climb a steep hill in the town, Ross activates the exhaust changeover valve, which transforms the engine noise to that of a proper V8. Although I'm not so sure if the Dingwall locals sunbathing in their gardens are as impressed as I am.
WEIGHBRIDGE TICKET
The sawmill is less than half a mile away, so the office staff must be able to hear him approach. With the weighbridge ticket obtained, the load is quickly taken off before Ross called Jones's traffic office to receive instructions for the next load.
We weigh again on exiting the mill and head for Strathconon. There are 15 miles of single track and passing places before the forest entrance, then a further four miles into the forest to the loading point for a load of logs bound for Jones's Mosstodloch Mill on Monday morning.
'With the trailer due an inspection tomorrow, this load will be perfect for the loaded brake test,' He said, and explained that during the course of a year there will be four such tests.
The forest road is in pretty good order, it was repaired quite recently, but rather than treat it like a rally stage Ross takes it steady as the track twists and turns. He said: 'There's little point in wrecking your own equipment in order to gain a few minutes.'
At the loading point, the sun still beating down, there's just enough room for Ross to perform a neat three-point turn. Within half an hour we are fully loaded. Four straps are positioned to secure the load, even though in reality it would not move anyway, and we leave for the return trip to Dingwall.
It's surprising just how many cars we encounter on the narrow, single-track road. The more able drivers move into the layby on the 'wrong' side to enable the truck to keep going in a straight line, in some cases almost ditching their vehicle to ensure there is enough room for the bigger vehicle to pass safely.
On the other hand, we witness some car drivers coming around the corner in the middle of the road and, on seeing the truck, slam on their brakes and stop right in the middle.
At Dingwall I bid farewell to Ross Jarrett, thanking him for his patience today and wishing him all the best in the future. With an investment of more than £250K to move wood, it's a big step for this 22 year old.