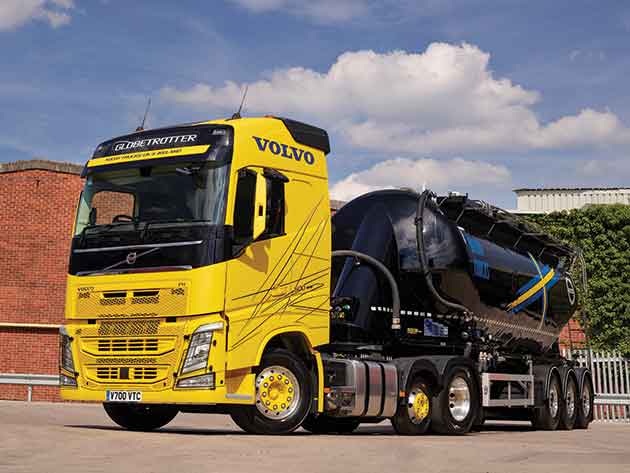 Payload dominates bulk transport, and truck manufacturers work hard to shed the pounds to be the lightest tractor unit on the market. Kevin Swallow assesses the Volvo FH Lite with its new Euro 6 Step D engine and asks whether going for payload compromises the total cost of ownership. 
PAYLOAD in bulk transport is one of the biggest challenges for operators in an age when engines and after treatment systems continually get heavier.
Moving up from Euro 5 to Euro 6 cost operators in the region of 300 to 500kg. Since 2014, manufacturers have been finding ways to slim back down. Favourite solutions are the tried and tested small pusher axle, first introduced in the 1990s, and a small cab.
This brings into focus the total cost of ownership and whether the focus for the operator is the service life of the vehicle, the residuals or a combination of both.
At Volvo Trucks, the 'lite' option for the FH tractor unit focuses on the small 4.5 tonne pusher axle. It is available on four chassis specifications; first on the LNG with diesel ignition hybrid on a 1,046mm chassis height, and then on diesel drivelines with three different chassis heights; medium (956mm), low (894mm) and X low (852mm).
Standard wheelbase options for those choosing a 7.5 tonne pusher axle are 3,900 and 4,100mm; for the LNG Lite its either 3,800 or 4,100mm, and for the diesel 6×2 tractor, the lite is available at 3,800 or 4,000mm.
As for kerbweight, according to the specification sheets the difference between the standard pusher and lite pusher is 280kg (with an identical specification).
Comparing the chassis heights show that choosing the low ride option adds up to 45kg to the respective kerbweights thanks to air suspension on the front axles and with low profile fuel tanks.
There is no weight gain for the Euro 6 Step D engine launched at the tail end of last year. Step D further tightens the onboard policing requirement for engines and widens the range of operating conditions that are monitored.
Under Step C emissions figures measured by PEMS (portable engine measurement system) were ignored when the engine developed less than 20% of its maximum power. Step D reduces this threshold to 10%.
Volvo took the opportunity to make changes to its D13 engines, which includes;
• New software.
• Improved coating in the exhaust after treatment system.
• D13 using a new thinner oil type with new oil control piston rings that reduce internal friction.
• The 500hp engine now has the same higher compression ratio as the 420 and 460hp ratings.
• I-See predictive cruise control upgraded with a new gear selection strategy.
• More selective coasting in the I-Roll function.
For this road test Volvo provided a FH 6×2 Lite tractor on its medium height chassis with a 4,000mm wheelbase specified with the Globetrotter sleeper cab. One piece of additional specification is the factory fit dual wet kit set up for both moving floor trailers and tippers.
Plated gross vehicle weights (GVW) differ from the standard 6×2 pusher compared to the Lite; on the standard FH 6×2 its 23,400kg with 19,000kg allowed through the pusher and drive axle bogie; the Lite option is 600kg less at 22,800kg but with just 16,000kg allowed through that same rear axle bogie.
Under the cab is the D13K500 Euro 6 Step D producing a badged 500hp, which is actually 494hp, from 1,400 to 1,800rpm. Its peak torque is 2,500Nm from 1,000 to 1,400rpm.
There are three other power ratings for the D13K; 420, which provides 414hp and 2,100Nm torque; 460, delivers 453hp/2,300Nm; and 540, supplies 532hp/2,600Nm.
Transmission is the AT2612F I-Shift with the TP Long software that is designed for long haul operations with the emphasis firmly placed on fuel economy and incorporating I-Roll function. It's been specified with the RSS1144A single reduction drive axle with a 2.64:1 final drive ratio, which is one of six available from 2.31 to 3.36:1.
Kerbweight with full tanks (550 litres of diesel and 64 litres of AdBlue) and without the driver or hydraulic wet kit fitted is 8,133kg.
For this test Volvo provided a Feldbinder powder trailer, which puts little if any additional weight through the drive axle. Instead it feels like the trailer is being pulled along nicely, especially up hills.
In an age where down speeding (or low revving if you prefer) is all the rage, this specification pushes the revs a tad higher for better performance at the expense of economy.
With reduced weight through the kingpin there is always the fear that on wet, unstable and soft surfaces traction will be an issue. Going for the shorter rear axle drive can be justified, especially if the truck is off road four times a day. If the time between loading and unloading is significantly longer so that a truck is only off road three times a week, then a longer ratio for fuel economy would be more beneficial.
On the tarmac at 56mph it works at 1,270rpm, while at 50mph it is still hovering around 1,100rpm. The upside is that with more revs to play with the transmission is not always flittering between 11th gear and top, which does provide a smoother, more consistent ride. For the A roads at 40mph the engine works in 11th gear at 1,100rpm.
Even without VDS (Volvo Dynamic Steering) the truck still handles well enough. When manoeuvring at low speeds, it handles much better if you raise the pusher to put more weight through the drive axle.
Helping to keep the weight down is the Globetrotter sleeper cab; it adds 40kg compared to the entry level sleeper cab. Globetrotter has a 1,960mm standing space over the engine tunnel, and there is a 90mm drop into the footwell.
As a one bedroom open plan studio on wheels the Globetrotter is spacious enough to relax in, making it a decent alternative to the Globetrotter XL. It does not lack for creature comforts with the Drive+ cab trim level and '1 Bed' package.
So, how does the 8,133kg kerbweight compare with the DAF XF480 6×2 FTP Space cab with its lightweight pusher axle tested last month (TN, October 2019)?
Both are similar in concept regarding engine, cab size and wheelbase, however, the XF carried a considerable 930 litres of fuel and 90 litres of AdBlue that brought it up to 8,432kg. By matching up the volume of diesel and AdBlue with the Volvo FH then the XF would be, hypothetically at least, lighter by 39kg at 8,094kg.
Successfully reducing kerbweight requires compromise. Select an entry level tin can on a short wheelbase with a thimble for a fuel tank will give you payload, but the driver won't thank you for it and the residuals will be poor. Beef it up and the driver might remain loyal, it'll definitely pique interest when you part exchange it, but the truck will barely wash its face out on the road.
That compromise looks like this. Ordering a smaller sized cab like Globetrotter only scrimps on headroom; inside is a decent working environment with enough space to relax without the walls closing in.
Choosing a lightweight mid axle won't make any difference to the driver unless there is a tendency to put more ballast over the kingpin; in this case with the powder trailer there was little additional weight through the drive axle.
And, of course, the driveline. At 500hp and 2,500Nm the driver won't feel short changed when the truck has to work, and it'll be frugal enough on the open road with I-Roll deployed to reduce unwanted acceleration to make it more than viable.
Comparing the kerbweight with the DAF XF480 shows that Volvo are competitive, and that specific options like alloy tanks and wheels can help bridge the gap in terms of weight.
Choosing a 'lite' weight doesn't make you a lightweight. With both DAF and Volvo pushing their respective flagships to the fore across all sectors of haulage, something a little more nuanced for the bulk transport market should provide the payload, and the residuals.
Case Study: Alfred Hymas
BULK haulier Alfred Hymas, based in Burton Leonard, near Harrogate, recently put six new Volvo FH Lite pusher axle tractor units into service. Managing director Stewart Hymas says the overall reliability was the main factor for choosing Volvo Trucks, and also cited fuel consumption, payload factors and driver acceptance as important too.
All the FH 6×2 Lite pusher axle tractor units are powered by Volvo's D13K engine rated at 460hp with secondary braking provided by Volvo's Engine Brake (VEB) with 375kW. The Globetrotter cabs were also specified along with Volvo's new I-See predictive cruise control system that helps maximise the trucks' kinetic energy, whilst saving fuel and reducing CO2 levels.
To further reduce kerbweight all six FHs are equipped with alloy air tanks and alloy wheels. All Alfred Hymas trucks come with hydraulic kits, inclinometers and 360° full time recording camera systems.
The six Volvos haul 72cu.yd tipping trailers and carry both bulk aggregates and agricultural products across the UK reaching payloads of between 29 and 30 tonnes, depending on the trailer make coupled.
'These extra systems do add on some weight, but the Volvo Lite pusher axle package is the main trade off. We've used these small wheeled axles since the days when Estepe did the conversions. Now of course, it's a factory fitment and financially a better option,' he says.