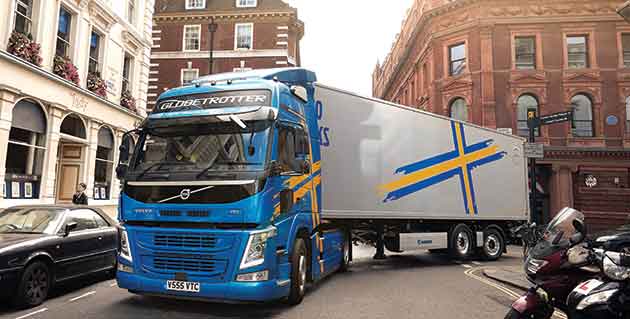 VOLVO Trucks has been trialling a Krone City Liner semi-trailer in urban areas, including inner London, to re-open the debate regarding the use of articulated vehicles, where currently the London Lorry Control Scheme (LLCS) restricts the movement of HGVs over 18 tonnes, but does not apply to rigid or eight wheel vehicles.
Nicknamed 'Lorry Ban' the scheme controls where HGVs over 18 tonnes can drive at night and weekends and requires permission to be granted by London Councils.
The Krone City Liner trailer is designed specifically for use in urban environments where 'conventional' semi-trailers are less able to manoeuvre. Its box body rides on an 11.025m chassis with twin axles, both rated at 9,000kg and has a wheel base (king pin to second axle) of 7.40m. Furthermore, the front axle can be raised and lowered while the rear axle is force steering, at up to 25°.