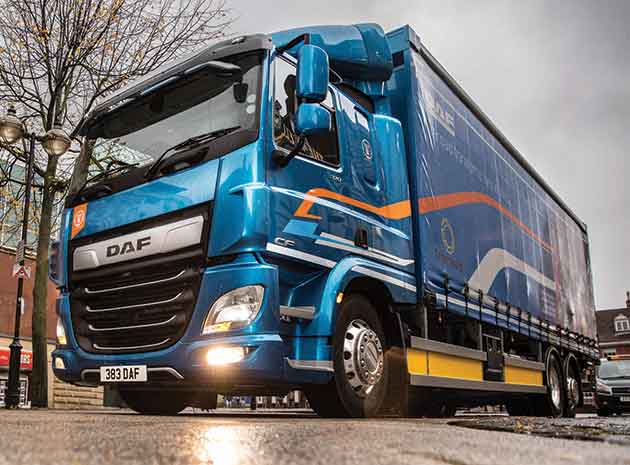 A 6×2 lightweight distribution truck is the most practical choice for urban multi-drop, and this month's test wagon is currently doing the rounds with Transport Association members raising cash for Transaid. Transport News grabbed the DAF CF370 for 24 hours to put it through its urban paces. Kevin Swallow reports.
IN 2017, DAF Trucks unveiled its revamped CF line up. There was a lot of new stuff to take in, including eight rigid options, modular chassis design for body builders, exhaust after-treatment system (EAS), rear steer axles, revised engines and transmission, more efficient drive axles and enhanced software. It all promised fuel efficiencies and weight savings.
Most of that was packaged in our test truck, a CF370 FAN 6×2 rigid. To start with it has a rear steer lifting axle. It sits on a 6.1metre wheelbase, and it has the standard sleeper cab. Underneath the driver's workspace is the 10.8 litre Euro 6 Paccar MX-11 six cylinder engine. To meet the latest emission standard, it uses exhaust gas recirculation (EGR), together with an active soot filter and selective catalytic reduction (SCR). A new compact EAS lowers the kerb weight up to 50kg.
It offers five power ratings split into two categories; two with single torque delivery and three with dual torque. Both the 300 and 340hp are designed for distribution and come with a standard single torque output. The 370, 410 and 450hp drivelines are for longer haul operations and have additional torque at low revs in the highest gear for direct drive gearboxes and in the two highest gears for overdrive gearboxes to boost fuel consumption savings.
Our test truck was the 370 version, delivering a true 367hp at 1,600rpm. From first gear to 11th it delivers 1,800Nm from 900 to 1,400rpm; pop it in top gear and there is an extra 100Nm, taking it up to 1,900Nm between 900-1,125rpm.
AXLE RATIOS V TYRE CHOICE
This works with a range of new rear axle ratios to go with the direct top transmissions, and this truck gets the 2.21:1, which is the lowest DAF Trucks can offer with this engine on 70 tyres. Fit 80s and you can select 2.05:1.
Usual software on the automated 12 speed ZF Traxon gearbox is ECO-standard. This is a conservative packager designed to deliver considered gearchanges when required. However, for this test we get the 'free option' ECO-performance that delivers a perkier gear change for action in and around the world of stop-start delivery schedules where the driver might require a spontaneous gear change to crack on.
The new electro hydraulic steered trailing axle incorporates a newly developed EHS (electric hydraulic steering) system, this saves 30kgs.
According to DAF Trucks, the EHS 'continuously calculates the optimal steering angle for the rear axle wheels based on speed and wheelbase to minimise friction. The manufacturer adds that 'the fact that the steering pump is only activated while steering, results in an additional 1% reduction in fuel consumption'. At speeds greater than 25mph, the axle locks itself in the straight forward position.
CONTROLS DEPLOYED
Once on the M74 northbound from Carlisle predictive cruise control (PCC), which reads the road ahead and preps the vehicle prior to approaching terrain, and adaptive cruise control (ACC) were deployed.
The driver can move the boundaries of PCC to make it more economical on longer drawn out routes or more productive if the terrain is undulating. On descents it utilises a strong three stage engine braking system to rein in excessive speeds.
ACC was set with both safety and progression in mind. As DAF's driver trainer Mandy Wannerton pointed out: 'Only a fool brakes the two second rule.'
With the low setting of rear axle drive and a road test speed of 53mph (designed to keep us out of trouble), we hit the M74 northbound in top gear at 950rpm. That extra torque helps hold the top gear comfortably on the level.
As soon as it hits any ascent it drops quickly to 11th gear and 1,250rpm before any road speed is lost.
To successfully navigate the Beattock Summit from J15 northwards towards J14 relying solely on PCC means some manipulation with productivity sought rather than economy. The latter can lead to greater fluctuations of speed, namely slowing sooner as the truck crests the hill before it allows gravity to build speed back up again.
For the city centre the pre-set speed limiter was activated, restricting the truck to 40mph using mainly 11th gear and then 30mph and 10th gear as we travelled up the old A74 into central Glasgow.
Taking London Road into Gallowgate, the truck is required to make several 90° turns and it is here where the rear steer axle was put to the test.
As much as it aids manoeuvrability through this section it doesn't allow the truck to stick to a single lane of the road. The truck still needs to straddle two lanes for the tighter turns like the sharp left hander onto Saltmarket from London Road, and the little chicane from Morrison Street left into Paterson Street and then right onto Wallace Street before joining J21 of M8.
Visibility is good, especially with the lower cab floor height on top on the MX-11 engine. It sits 70mm lower than the sleeper cab on the MX-13 engine.
LOUD AND PROUD
I am no fan of the 'city window' in the passenger door because it offers so little visibility, but I am a fan of the nearside proximity sensor to herald danger. It is loud and proud.
The most significant leg is from the A77 Bellfield Interchange onto the A76 towards Cumnock and onto Dumfries. It is a tight, twisting section of road that requires plenty of concentration. Most of it was done with the speed limiter set at 40mph and in 11th gear but with plenty of eco-roll. It handled extraordinarily well with this section, as it poured through the turns and coped with the sharp inclines.
For the driver the standard one bunk sleeper cab is a better alternative than the day cab. With the MX-11 engine it's a two step entry into the cab, and the sleeper cab is 2,200mm long, which is 430mm longer than the day cab.
Inside the driver has a 440mm engine tunnel to negotiate en route to the bunk, however there is 1,050mm headroom once the driver is tucked in.
Much of the storage inside the cab can be found underneath the bunk. There are two external locks, with the nearside only accessible from the outside. A new interior trim using fresh materials and colour schemes gives it a modern, polished feel. It'll be interesting to see how well it ages.
Urban work is all about manoeuvrability, visibility and patience. The rear steer axle on any 26 tonne truck, of any length, is a must. It makes lateral movement through the city so much more convenient and reduces the scrub of the fixed axle.
Choosing the smaller engine is cheaper to buy and more frugal regards fuel, and it lowers the cab height enough to improve visibility around the parameter on the cab.
As for patience, well driving something so smooth and with a comfortable working environment, it's hard not to be impressed by the new look CF.
OPERATORS VERDICT
DAF Trucks donated this CF370 to Transport Association (TA) members in their support of industry charity, Transaid. Any member using the vehicle in regular service donates accordingly to the charity.
The Don-Bur bodied curtainsider has been liveried by DAF Trucks to promote Transaid's work in access to healthcare; using bicycle ambulances to ensure pregnant mothers can reach medical care during childbirth in countries with developing transport infrastructures.
A similar tripartite fundraising initiative in 2014 saw DAF Trucks loan three XF tractor units to the TA in support of Oxford based charity, Helen & Douglas House. The arrangement proved a great success with donations totalling £17,500. Nigel Cook, managing director at Elddis Transport and current chairman of the TA, is aiming to top that figure for Transaid.
'It's an extremely effective approach to fundraising,' he says, 'and our members have shown that they will get right behind the initiative.'
As Transport News went to press Florence Bearman, head of fundraising at Transaid, revealed donations were well into five figures. The truck is still in service with TA members and more donations were still coming in.
She says: 'We enjoy having DAF's support as corporate members and this latest project will help make a real difference to our projects to improve access to safe, available and sustainable transport to communities in Africa and beyond.'