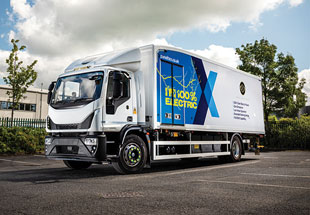 IVECO is to begin production of Eurocargo 'glider' chassis at its factory in Brescia, as part of a collaboration with Blackburn based Electra Commercial Vehicles. The UK company has begun offering 100% electric powered vehicles for city centre deliveries across the full Eurocargo line-up, with GVW from 7.5 to 19 tonnes.
The move to production of a dedicated glider chassis, the name for a vehicle without a power train, will help to ensure maximum efficiency for Electra's manufacturing programme, and will support faster delivery times to customers.
Sid Sadique, chairman of Electra and NRG Fleet Services, says the firm added the Eurocargo to its range because the Iveco model is perfectly suited to electrification and offers maximum bodybuilding flexibility. Once the conversion process is finished, an Electra commercial vehicle can operate on clean electric power, with zero tailpipe emissions and low noise.