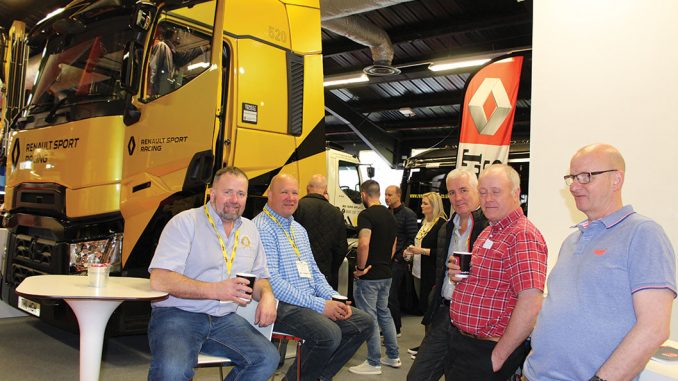 Confirmed; the only UK industry event where all the truck manufacturers attend is back! The Tip-Ex and Tank-Ex show will take place on 3-5 June 2021 with the Transport News Northern Rewards breakfast and special days for the bosses and transport managers, plus a spectacular Driver's Day on the Saturday.
THE UK's only dedicated event for the tipper, bulk transport and tanker sectors, and the only show that has all the truck manufacturers in one place, will return next year at Harrogate.
The free-to-attend Tip-ex/Tank-ex show at the Yorkshire city's famous Convention Centre will take place over three days; 3-5 June 2021. Each day will focus on specific roles within an operator's business including the senior management, the transport manager and the driver.
Vic Bunby, Road Transport Media divisional director, confirmed the new dates and said that exhibitors and regular attendees had already expressed their delight at the return of the show.
'This year's event was postponed due to the Covid-19 pandemic, along with many other important shows that would have taken place. However, all the Tip-ex/Tank-ex exhibitors who planned to be at Harrogate this year have committed to attend in 2021.
'The truck manufacturers, bodybuilders, trailer manufacturers and the component and parts supply industry are the heartbeat of the show, and with their fantastic support it gives us tremendous confidence that Tip-ex/Tank-ex 2021 will be a huge success,' he said.
Vic Bunby was also keen to express the unique selling point that Tip-ex/Tank-ex enjoys over other industry events. 'It is the only show in the UK where all the truck manufacturers make sure they are exhibiting,' he revealed, 'and had this year's event taken place it would have had three new truck UK exclusives following the recent product launches from Iveco, MAN and Volvo.'
The 2021 event will also feature a 'Knowledge Zone', with a wide-ranging seminar programme, designed to help keep UK tipper, bulk hauliers and tanker operators compliant, and up to date on the latest industry developments.
On Thursday 3 June transport managers will take centre stage with a conference that will contribute towards their continuing professional development. A traffic commissioner, a representative from the Driver and Vehicle Standards Agency, and a transport solicitor will be part of the seminar.
Twenty-four hours later on the morning of Friday 4 June the inaugural Transport News Northern Rewards breakfast will take place with 15 awards honouring hauliers across the north of England. Alistair Vallance, consultant editor of Transport News, said: 'Demand for an awards show catering for all hauliers across both sides of the Pennines was too great to ignore, and we have already started to receive nominations for 2021!'
Then, on Saturday 5 June, sister title Truck & Driver will host a drivers' day.
Across town at the Yorkshire Event Centre, truck auctioneers Protruck Auctions will host another construction and modern classic truck sale. 'Last year saw 325 trucks and trailers up for grabs, which included 30 classics,' Vic said.
'The demand for these older trucks was amazing, but there was also a solid core of transport professionals looking for good, ready to work trucks and trailers that were also on offer.'
To register for the event visit www.tip-ex.co.uk, while companies wishing to exhibit should email [email protected] or call 07900 691137.