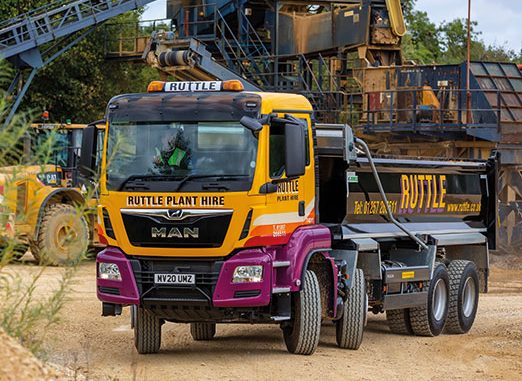 This version of the MAN TGS muckaway has few equals; a robust driveline, strong chassis and light enough for a decent payload too. Transport News says farewell to a true workhorse.
ALL THINGS being equal, MAN Truck & Bus UK should have a larger share of the tipper market with its TGS eight wheeler. What's not to like? A decent cab, a robust engine, and a light chassis. These are eagerly sought commodities in the aggregate, asphalt and muckaway markets.
Operators are more than familiar with TGS. Launched in 2007, it replaced the TGA series. It also arrived two years after the Euro 4 emission level was implemented, for which many truck manufacturers embraced selective catalytic reduction (SCR) that required AdBlue. In mainland Europe MAN adopted SCR, however in the UK, MAN Truck & Bus UK pursued exhaust gas recirculation (EGR).
As always in road haulage a manufacturer's truck is only as good as the last one owned by the operator, and they've long memories for rolling stock that doesn't roll. In particular, trucks powered by the D20 'Add Nothing' engine that relied on EGR to meet Euro 4 and then Euro 5 emissions standards.
Thomas Hemmerich addressed this back in 2017 when he became the managing director of MAN Truck and Bus UK. Speaking to sister title Commercial Motor, he said the situation with the UK's approach to pushing the EGR driveline 'harmed our brand, reputation and image'.
'It started with Euro 4 and the 'add nothing' strategy. Obviously, they wanted to carry on, but the cooling you need for Euro 5 with the add nothing philosophy is huge. We decided most of the countries would go for the SCR technology, which was a smarter move.
'However, we learned our lesson… that if our customers have some issues, we need to stand by them…we could have reacted faster.'
Some UK operators did go for D20 with SCR, and as one operator put it; 'that's a bullet proof engine that never shied away from work'.
At Euro 6 MAN replaced the D20 with a nine-litre D15, which is 230kg lighter, and retained the beefy D26 engine. No issues, anecdotal or otherwise, have been dug up by Transport News, and subsequent roadtests have found the driveline to be excellent…but let's not get too far ahead of ourselves.
First let Transport News explain what this particular test tipper is all about. This is the outgoing model, and the one most likely acquired by hauliers today, like its owners Ruttle Plant Hire, who operate from sites in Birmingham, Chesterfield, Chorley and Manchester.
Badged as the TGS 35.430 8×4 BB chassis cab, it's the heavy duty version as denoted by the '35'. For hauling aggregate and asphalt operators generally choose the '32' version, which is 330kg lighter like-for-like.
This TGS 35.430 is fitted with a steel Boweld Taperlite body with Edbro CX15 tipping gear and a ProCover sheeting system.
On the 5,000mm wheelbase are straight beam steering axles with vented disc brakes and hub reduction drive axles with drum brakes.
Underneath the M day cab, the alternative is the L sleeper cab, is the Euro 6D engine. Gone with the 6C engine is the twin turbo system. Turbocharging in 6D is now a single-stage process with an electrical wastegate. An electronically controlled exhaust throttle valve improves EGR, especially under low load conditions.
Other ancillaries including water pump, alternator and air compressor, all electronically optimised to operate only when required and when most energy efficient.
Engine choice is limited to three; the D15 nine-litre six-cylinder lump delivers 395hp although badged as a 400hp and with 1,800Nm of peak torque, the other two are from the D26 12.4-litre family. First is the nominally based 430, which generates 424hp coupled with 2,200Nm peak torque, and is the one on trial here; the second is the 470, which delivers a true power rating of 464hp backed by 2,400Nm of peak torque.
At the end of the axles are standard issue 295/R80 22.5in tyres mounted onto 9.00×22.5 steel wheels. Complete with full 300 litre diesel tank and 35 litre AdBlue tank, and no driver, the kerbweight for this chassis cab specification is 9,815kg. This provides 22,185kg for the driver, bodywork and payload.
That comes in marginally lighter than the Scania XP chassis cab (TN, February 2021) at 9,940kg. Mitigating factors for the Swedes include an 80 litre AdBlue tank, 150mm longer chassis and slightly heavier engine. Match up the AdBlue tanks and there is just 54kg in it.
There are amendments to the MAN TGS 35.430 specification that will change the kerbweight. To lose weight you can fit the D15 engine and save 195kg, purchasing the Alcoa alloy wheels will reduce it by 228kg, and choosing single reduction drive axles will give you an extra 280kg to work with. That lowers the overall kerbweight to 9,112kg.
Conversely, you can easily increase weight: A manual gearbox adds 65kg, the L Sleeper cab puts on 155kg, and 225Ah batteries instead of the standard 175Ah batteries fitted increase it by 30kg. All that takes the overall kerbweight to 10,065kg.
Transmission is ZF's TraXon gearbox rebadged as TipMatic by MAN. It is a 12-speed automated overdrive gearbox coupled with 3.71 final drive ratio. These days the transmission is a rotary switch on the dashboard.
It comes with four options beyond neutral: R for reverse, RM for slow-rev reverse manoeuvring, D for drive and DX for off road. This off road selection changes gear shifting patterns by allowing higher revs, which means the driver can retain a specific gear for longer rather than bunny-hop up and down the box.
As this truck will spend time off-road in the mud rather than just venturing onto freshly created hardstanding, the low-down torque coupled with changes at higher revs makes steady progress a reality.
On the road, with so much low torque accessible, often it'll start off in either second or third. Changes up the box will skip a gear or two early on, but by sixth gear its single changes all the way to the top.
And 12th gear will be engaged before you get to 40mph, however if the driver is really light on the accelerator then top gear can be possible even 30mph.
Returning to 40mph, Scotland's road speed limit for trucks 7.5 tonnes and heavier for single-carriageway roads apart from the A9, the engine works at around 1,050rpm. At 50mph it rises to 1,180rpm and then at 55mph it works at 1,290rpm, which is right at the top of the peak torque band.
While good at time keeping, tipper drivers don't have the best reputation for fuel efficiency. If the driver is leaden footed that will be echoed in the Tipmatic's gear shifting patterns, as it will adjust to the driver's technique.
Those changes are made while taking into account information about weight and road topography fed to the gearbox from the MANTronic CANbus system with its on-board computer and vehicle management computer.
If the driver puts the foot down, gear changes will be quicker and more fuel is spent. Encourage drivers to be sympathetic and the gearbox will deliver a much smoother and economical drive.
This particular TGS handles with a robust assurance. Lateral movement into corners and junctions are done with ease, but as is always the case with tippers, handling the numerous junctions and site entrances requires a little prep to get the right road position before successfully negotiating the challenge.
Being a tall vehicle with a high seating position and uncluttered lower portion of the windscreen mean objects can be detected when closer to the front. The scalloped edges to the side windows help with sideways visibility, allowing you to see obstructions closer to your doors.
The only downside is one that has been addressed with the new model; namely the oversized wing mirrors that create their own blind spots into junctions and roundabouts. Often moving forwards and laterally in the seat is the only way to see around the problems they create.
With a 1.4m cab floor height, a first step height of 390mm makes clambering in and out of the cab a vertical experience. The final step into the cab is offset quite a distance to the right as you approach the truck cab door, which puts your right shoulder into contact with the door.
It is a day cab, so space is at a premium but storage is excellent, with overhead compartments suitable for coats or food containers. There's a decent sized central compartment in the dash between the seats, which serves well for documents.
As Transport News went to press, this version of the TGS is no longer available as a new product, it has been replaced by the latest version launched last year. So, you'll have to seek one from the second hand market but you can do that with confidence as this version of the TGS has served MAN well.
Any TGS with a Euro 6 engine is a truck that is the sum of its parts: a rock-solid driveline, a decent working environment for the driver and light enough to be more than viable. Everything a tipper operator needs.