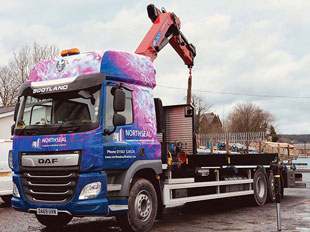 ASSET Alliance Group's flexible approach has been hailed by Northseal Scaffolding following a competitive four way tender to supply the Galston, East Ayrshire company with the latest addition to its fleet.
The new 26 tonne DAF CF rigid, with HMF 2820-K crane and space cab, which has been supplied on a four year contract hire basis, has been liveried in the company's striking blue and pink colours.
Joining the firm's 10 strong fleet, the vehicle will be in operation seven days a week, delivering scaffolding across the whole of Scotland and conducting street work for local councils.
Managing director of Northseal Scaffolding, Eddie Gilmour, says: 'This is the first time we have worked with Asset Alliance Group and we've been really impressed by the quality of service they deliver. We approached a number of companies, but Asset Alliance were the standout for us. They were able to source the exact vehicle we wanted, and have it on the road swiftly.