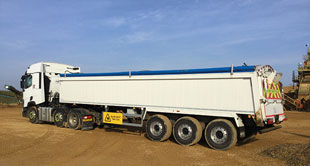 PPG Fabrications and Weightlifter has expanded their product ranges with the launch of a moving floor triaxle trailer.
'Non-tipping trailers is an area of the business that is going to grow,' said Nigel Butler. 'There is a desire to move away from tipping trailers for health and safety reasons. We think this is the right solution. It's a small market at the moment, but it will grow, and we are in the perfect position to exploit that market.'
The 27cu.m trailer recently underwent a successful four week trial with customer Tarmac, during which time it was used to carry a mix of sand, aggregates and tarmac.