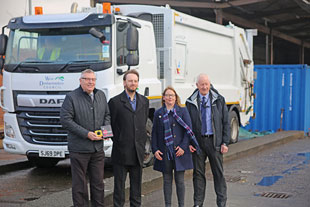 WEST Dunbartonshire has become the first Scottish Council to introduce innovative safety technology that allows its refuse collection vehicles to be brought to a controlled stop in an emergency situation.
The emergency braking system from Vision Techniques VT Stopsafe allows crew members or other passengers to safely slow down and stop the vehicle if the driver loses control for any reason.
When the system is activated, it limits the vehicle engine revs from the accelerator pedal and uses braking pulses to bring the vehicle to a halt in seconds. This method means the vehicle won't swerve, skid or lock up, reducing the risk to other road users and pedestrians. Once activated, alarms also sound from the vehicle to alert pedestrians to an approaching hazard.