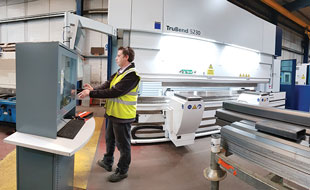 IT DOESN'T bode well for any production line if the first stage is a bottleneck. While Staffordshire based trailer and body manufacturer Don-Bur met its order book in a timely fashion, it relied on 'around the clock' labour and the reliability of its cutting machines to ensure enough raw material was cut to size for production.
Originally the plasma cutter, then joined by two carbon dioxide (CO2) lasers, worked solidly 24 hours a day from Monday to Friday, as well as Saturday and Sunday, to cut the steel, aluminium and stainless steel to keep up with demand.
Richard Owens, marketing manager, explained that it couldn't continue. 'The bottleneck was the first part of production and that has a knock on effect down the chain,' he said.