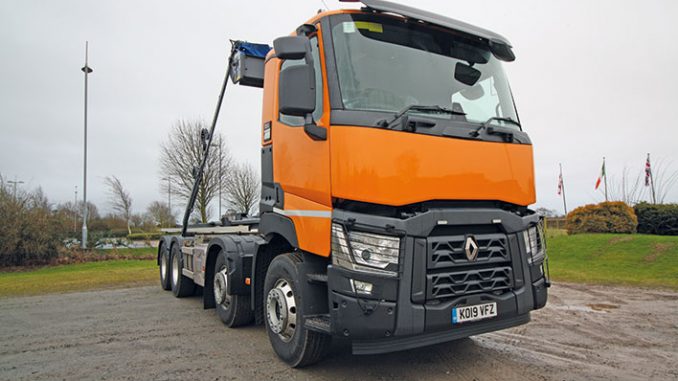 Renault Trucks has cut a swathe through the eight wheeler market getting its construction vehicles into operators and winning conquest business. Kevin Swallow spent a day in the Scottish Borders in Renault's C430 hook lift to see what all the fuss is about.
THE FRENCH truck manufacturer has made significant inroads into the multi-axle market helped by its idiosyncratic design, driveline and robust chassis. And an aggressive pricing regime backed up by a generous four year warranty (no longer available) also helped.
There are two multi-axle vehicles available for construction. The K is for heavy duty off-road activity and C is for more nuanced road going work.
In line with the move to Euro 6 Step D that came into force on 1 September 2019, the French have extolled the virtues of the new drivelines with lower total cost of ownership compared to the outgoing Step C drivelines.
Whereas Step C measurement of emissions figures by PEMS (portable engine measurement system) were ignored when the engine is developing less than 20% of its maximum power, at Step D the threshold is just 10%.
Tweaks by Renault Trucks, as part of the Volvo Group and sharing the same engines as the Swedes, include a new generation post treatment system, made with new materials for increased durability. An AdBlue quality sensor has also been added.
A new diesel particulate filter especially for Step D with changes to the wall thickness and pore sizes has been introduced, which is compatible to all Euro 6 engines. An extruded vanadium material, a hard grey metal used to make alloy steels, has been extended to all engine ratings and allows regeneration at lower temperatures. This meant the 7th injector could be removed.
One of the major changes is that the vertical exhaust is no longer available; instead it's an in-tract exhaust, which was optional at Step C.
A Renault Trucks spokesperson said, 'these amendments along with updated software have repositioned the engine's sweet spot, which has together with the revised ratios, improved fuel further'.
For this road test, Renault Trucks UK sent a C430 8×4 across the border, fitted with the steel Day cab boasting four-point cab air suspension with ride height control system and a rear cab window, all in a distinctive burnt orange livery.
The overall cab length is 1,799mm, with an internal height of 1,605mm. There isn't any space behind the seats for storage, and the mounting on top of the engine eats into the cab space on the back wall. The cab floor sits at 1,468mm from the ground. Inside there is a 200mm engine tunnel height.
For this test, the bodywork is the Boughton Engineering hook lift body fitted with a Kwikcova auto-sheeting system.
The engine is the DTI11 Euro 6 Step D 10.8 litre six cylinder inline diesel, with common-rail high pressure fuel injection, and overhead camshaft. To achieve the Euro 6 emission standard, it combines exhaust gas recirculation (EGR) and selective catalytic reduction (SCR).
Badged as a 430, its true horsepower rating is 424hp from 1,700-1,900rpm. Options include the 380 or the 460 badged engines. Peak torque is 2,050Nm from 1,000 to 1,400rpm, and helping to turn that power into motion is the Optidriver AT2612F overdrive 12 speed transmission.
Gear ratios go from 11.73 for first gear through to a 0.79 in top gear. The rear axle ratio is 3.89:1. This combination brings the revving down to an acceptable level, a tad below 1,500rpm at 56mph.
Secondary braking is achieved from the Optibrake, which combines the exhaust brake and valve compression brake and delivers 300kW at 2,300rpm.
There are six wheelbase options, from 4,300mm through to 6,000mm between the first and third axle. For this test it's the 5,100mm wheelbase. Kerbweight is 10,569kg before any additional ancillary equipment is added.
For multi-axle rigids the Transport News construction route is a rural affair that takes in meandering roads on the A7 north from Carlisle to Selkirk.
We managed to get through prior to a full road closure just south of the Selkirk Golf Club. Having previously put the Tridem (TN, June 2018) through this route, there was no way the standard eight wheeler could match the Tridem's manoeuvrability.
At Skipper's Bridge before Langholm and then at Selkirk, we swept majestically across the white lines to get around the corners. Life is much easier with no oncoming traffic to contend with, but while more room is needed the handling is effortless, smooth and responsive.
Plodding along at 40mph on a single-carriageway A-road brought ire from other road users, and this speed also affects the engine's performance. Alternating frequently between 11th gear and top hampers progress.
The driveline does work hard, it happily lugs down to 1,000rpm, and will work up a sweat if required. For construction, operators tend to play it safe and look to bigger engines to capitalise on residuals.
BIGGER ENGINE
The capabilities of the 10.8 litre engine, even at 32 tonnes GVW, allow it to match the bigger 12.8 litre engine through the undulating Scottish Borders.
Once south of the border, with the legal road speed at 50mph, the engine sits happily at 1,100rpm in top gear. It is still very undulating through this section, but there is a better feeling of progress being made.
On the descents the Optibrake, which generates 300kW of retardation from the engine at 2,300rpm, meant use of the footbrake was minimal.
The day cab is OK but not many drivers like the cramped environment, and while there is enough space for personal protective equipment and belongings, there is little room for much more.
Having traversed this route with Renault's Tridem, going around in a traditional 8×4 makes you realise how much harder the driver has to work managing road position and maintaining momentum.
And finally, while the 10.8 litre lacks the energy of the 12.8 litre the smaller engine is no slouch. It works the climbs well and was only really hampered by the Scottish national speed limit for single-carriageway A-roads.