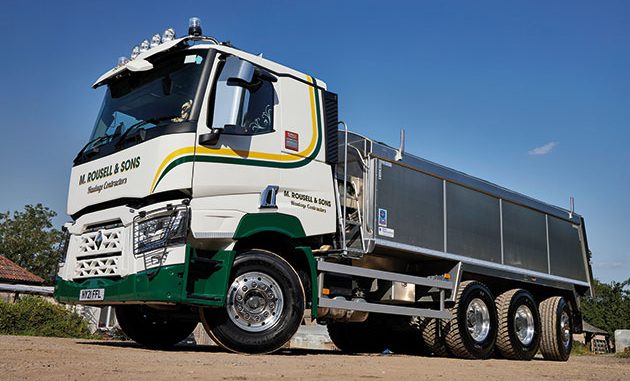 M ROUSELL & Sons has added a Renault C460 8×4 tridem with PPG aluminium insulated tipper body to its five strong fleet.
Supplied by Sparks Commercial Services in Somerset, the C460 is the fleet's first tridem and has been bought in to give more flexibility as well as drive profitability on the haulier's aggregate and tarmac jobs.
Chris Rousell, partner, who runs M Rousell & Sons with his brother, Kevin, explained why the C460 tridem helps to widen their business offering: "We've been running Renault trucks for 13 years. The tridem, which has a retractable rear axle, gives us the flexibility to get into smaller and tighter access construction sites."
The C tridem, with factory-fitted extra axle adaption, offers enhanced manoeuvrability as well as good traction and, with its three-axle bogie, offers a shorter wheelbase of 3.7 metres, improving the turning circle by 20% compared to a conventional 8×4.