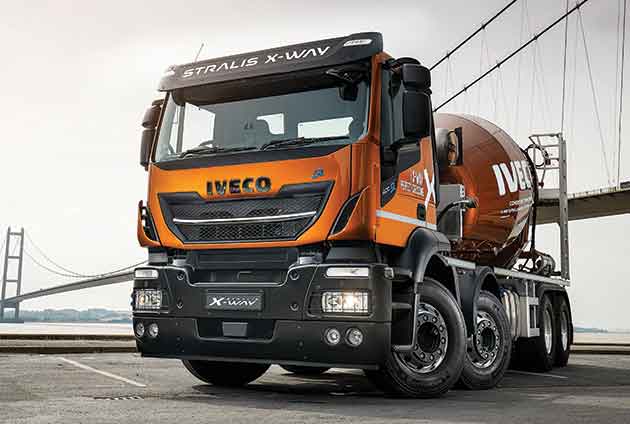 To compete in today's burgeoning mixer market, Iveco has introduced their new slimline Stralis X-Way designed for smooth handling while delivering maximum payload. Kevin Swallow gets behind the wheel to weigh up the new specification.
A YEAR ago, Iveco introduced the Stralis X-Way, heralded as 'the lightest in the construction sector'. The manufacturer did not pull its punches; X-Way 'raises the stakes in light off road missions with the highest payload in its segment' and 'combines the best of Iveco's fuel efficiency and safety technologies with the brand's most robust chassis design'.
With Iveco's usual 8×4 offering, the Trakker, well equipped for heavy duty work, it was also a heavyweight. Too heavy in fact for the part of the construction market where the emphasis is on payload.
By shedding 750kg, Iveco's new look X-Way has become competitive in the lightweight market, but operators are fickle and do not want lightweight at any cost. They need durability too, and not something that will fall apart on the first building site.
Has Iveco been able to make the weight without weakening performance?
The wider X-Way line-up offers of 9, 11 and 13 litre engines that use selective gas recirculation (SCR) to achieve Euro 6 emission standards. For Transport News, Iveco put forward its Stralis X-Way Super Loader (SL), a new contender on the mixer market.
On the back of the chassis cab is the SLX8 mixer barrel, which has an industry demanded 8.0cu.m capacity that takes it to a tad over 19.0 tonnes payload. For the UK sector, SL is available with four wheelbases (first to third axle); 4,750mm, 5,020mm, 5,600mm and 5,820mm. Choose the shortest wheelbase and the kerb weight is an impressive 8,833kg with no driver and full 290 litre diesel aluminium tank plus the 50 litre AdBlue plastic tank.
For this test Iveco had specified a 5,020mm wheelbase with an overall length of 9,448mm. With alloy wheels taking off 165kg, it brings the kerb weight for this chassis cab down to 9,210kg, leaving 22,790kg for the bodywork, payload and driver.
Putting this into context with DAF Trucks and MAN shows that Iveco is now right in the mix. A DAF CF with the MX-11 10.8 litre engine specified for mixers on an equivalent 5,000mm wheelbase (first to third axle) it's 9,353kg. Caveats include steel wheels, 220 litre aluminium diesel tank, 45 litre AdBlue and no driver. For MAN's TGS with a slightly heavier D26 12.4 litre engine it's 9,277kg, also on a 5,000mm wheelbase, alloy wheels, Tipmatic automated transmission, a 300 litre steel diesel tank and 35 litre AdBlue tank.
WELL STABILISED
The Iveco chassis is fitted with a reinforced front stabiliser bar and two rear stabiliser bars. Typically, the steel suspension will have a two leaf at the front and three leaf at the rear. An option is a one leaf optimised suspension on the front axles and two leaf on the rear axles, which lowers kerb weight by up to 60kg.
Also helping to drop weight is the vertical exhaust stack behind the cab, rather than additional pipework on the chassis, and the use of disc brakes on the front and rear bogie. It's also worth noting that this truck came with the optional, heavier steel front bumper; plastic is standard.
The driveline for SL is the Cursor 9 8.7 litre, six cylinder direct injection engine; the only option available. There is no physical weight saving choosing a lower horsepower. Cursor 9 offers four badged drivelines, listed with true horsepower outputs;
• 310: 306hp between 1,675-2,200rpm and 1,300Nm torque between 1,100-1,675rpm.
• 330: 326hp between 1,655-2,200rpm and 1,400Nm torque between 1,100-1,655rpm.
• 360: 355hp between 1,530-2,200rpm and 1,650Nm torque between 1,200-1,530rpm.
• 400: 394hp between 1,655-2,200rpm and 1,700Nm torque between 1,200-1,655rpm.
Turning power into motion via the propshaft to the single reduction drive bogie is the automated ZF 12 speed 1810 TD transmission with manual override, with gears ranging from 16.69 to 1:1 direct top. It is also fitted with a two stage engine brake that delivers 891Nm at 3,000rpm.
Iveco has also turned to ZF to provide a permanently engaged PTO (power take off) that can deliver up to 2,450Nm. It is installed between the transmission and vehicle's engine, is driven directly from the engine shaft and features its own cooling circuit and oil sump.
The X-Way line up for construction has a choice of cabs: the AD (Active Day) short cab with low roof, AT (Active Time) sleeper cab with low or medium roof, and AS (Active Space) sleeper cab, which was designed around the driver for the long haul missions of the New Stralis XP.
THREE CAB STEPS
For the SL it is only the AD cab, which doesn't afford much space or storage. Overall the cab is 3,060mm high, with a 1,490mm cab floor height and 360mm engine tunnel. Internal cab height is 1,210mm upwards from the engine tunnel, and from the windscreen to the backwall it's 1,660mm. There are three fixed steps into the cab.
For greater visibility, there is a rear window to allow the driver to see back towards the barrel and down onto the nearside of the vehicle. Thankfully Iveco has not gone overboard with the cab's revamp, so the switches and controls are familiar. Transmission is set into the dashboard to the left with D (drive), N (neutral) and R (reverse).
Positioned on the top right of the central dashboard that houses the speed and revs is SL, which is not a misplaced logo but the 'speed limiter'. Press it once and a small visual on the top left of the dash indicates the selected limited speed.
On the right stalk of the steering column is the cruise control with a rocker switch on its end that sets the cruise control speed and changes the set speeds up and down, one kilometre at a time.
Press D, release the hand brake (Iveco has retained a traditional lever) and away you go. These days more operators are going for 394hp at 32 tonnes GVW, and rightly so. This engine is a proven entity and it continues to impress. Torque kicks in properly from 1,200rpm, and with a 3.40:1 final axle drive ratio it just allows you to drop into top gear at 40mph on the flat. Any incline and it'll change down to cope. At 50mph it sits at a tad below 1,400rpm that'll ensure maximum fuel economy.
NORTH EAST ROUTE
The test route took in East Yorkshire. From the Humber Bridge the route went north via Beverley, then west to Market Weighton and York, south east to Howden and finally back eastwards to the Humber Bridge.
What emerges from the test drive is just how smooth and responsive the truck is as it manoeuvres through roundabouts. On the open road it feels more akin to long haul than a rugged, site-to-site eight wheeler. Fitted with only an engine brake, it works impressively at 3,000rpm slowing the vehicle enough before introducing the disc brakes to bring the truck to a halt over the last 20 yards.
With a higher centre of gravity and moving load, stability is critical, and the SL copes well with lateral movement on tight bends. In terms of meeting its aims to combine 'fuel efficiency and safety technologies with the brand's most robust chassis design' it's a success.
As for being the lightest, this will depend on how operators specify the truck before it begins to work. However, X-Way is a new vehicle and it's now competing well within the concrete sector, which is no small achievement.
To become a lightweight champion in the lightweight construction market you must first be taken seriously as a contender, and in that respect, Iveco has already been successful.
TOP CARRYING CAPACITY
Photographer Tom Cunningham photographed the Stralis X-Way on a route around the Humber Bridge: a 2,220 metre single span suspension bridge which opened in 1981. At the time, it was the longest of its type in the world (it's now the eighth longest).
Central to its design was the 480,000 tonnes of concrete used in its construction which, had it been delivered to site by 8×4 mixers, would have taken approximately 25,000 trips by the Stralis X-Way in the configuration we road tested.
Iveco believes this carrying capacity is 'second to none' on a 32 tonne rigid with a 3mm drum (the spec preferred by most operators), thanks to the X-Way's ability to consistently carry 8cu.m of concrete per journey. This would reduce the number of deliveries required to site for this mammoth project by approximately 300 trips shaving more than a month off the construction time, versus the average payload capacity of a similarly specified vehicle.
And whilst few projects in the world would require this much concrete, over the typical lifespan of one of these vehicles, the ability to carry a greater payload and make fewer trips, whilst in turn reducing fuel consumption and operating costs, has the potential to make a healthy contribution to any operator's bottom line.