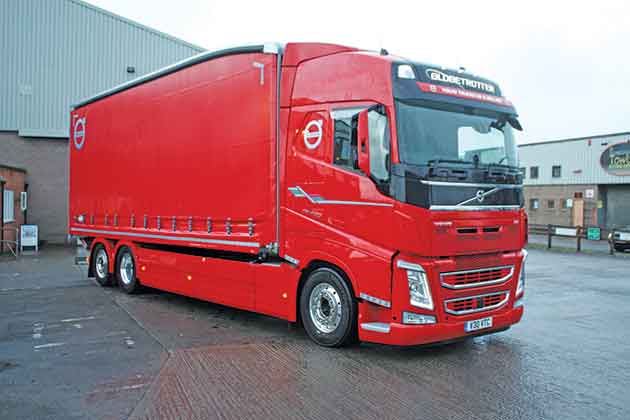 In last month's issue of Transport News we focussed on urban deliveries using a 4×2 tractor and short wheelbase trailer. Popular across the European continent, Brits prefer a 6×2 rigid with a rear steer axle to access the city. Kevin Swallow considers if a 26 tonner is the better solution.
FOR THE past 23 years the number of three axle rigids operating on UK roads has remained consistent. According to figures from the Department for Transport (DfT), approximately 12.5%, or 61,900 vehicles out of 493,000 registered commercial vehicles at 3.5 tonnes and heavier, run on three axles.
Taking those numbers at face value it's fair to say that three axle rigids remain a steady and integral part of the British hauliers' fleet. What the figures don't reveal is that the 6×2 has increasingly become the urban vehicle of choice.
Adding a rear steer axle gives it added manoeuvrability, at 26 tonnes it has greater payload than any two axle rigid, and there is more bang for your buck as it can create more work for your driver using the same C licence (class two in old money) and retaining the same hourly rate.
Rather than focus on smaller gross vehicle weight (GVW) comparisons, Transport News is upscaling and looking at how the 26 tonner compares with a 4×2 tractor unit and two axle urban trailer tested in the last issue around the distribution route (see boxout).
Let's get the obvious differences out of the way first: As previously illustrated, a 4×2 tractor unit two axle trailer can be specified up to 38,000kg combined vehicle weight (GCW) with the right specification. According to the DfT, this is twin tyres on the driving axle with road friendly suspension (usually air suspension but some rubber and hydraulic suspension may also count as road friendly).
Usually a four axle tractor trailer GCW is 36,000kg. This is a full 10,000kg more than the 6×2 rigid, which is only capable of being plated at 26,000kg GVW. It can increase to 44,000kg if it becomes a prime mover for a triaxle drawbar trailer. Then there is the workspace: The tractor is an FM whereas the rigid is an FH.
The engine on both tests are identical. The D13K 420 12.8 litre 6 cylinder diesel engine using common rail high pressure fuel injection and rear mounted timing.
The Euro 6 rating is met with a combination of mild exhaust gas recirculation (EGR) at 10% that requires no EGR cooler with the rest of the work done by selective catalytic reduction (SCR).
Volvo's D13K is available in four ratings; the entry level one here being the 420, as well as the 460, 500 and 540hp. True horsepower for our test subject is 414hp between 1,400 and 1,800rpm with 2,100Nm maximum torque from 860 to 1,400rpm.
Transmission is the AT2612F I-Shift direct drive 12 speed automated, specified with the Eco Performance package. Secondary braking is delivered through the VEB+ engine compression brake that can produce 375kW at 2,300rpm. The rear axle ratio is 2.50:1.
It has a 6,000mm wheelbase, Alcoa wheels with 385/55 Michelin XFA2 Energy tyres on the 9.0 tonne front axle and on the 7.5 tonne rear steer, with 315/70 Michelin X Line Energy on the 11.5 tonne drive axle.
With the Lawrence David curtainsided body, full fuel tanks and without a driver it sits at 9,400kg. This provides a 14,600kg payload. By comparison the tractor unit weighs in at 7,980kg, the trailer is 5,820kg, so the payload is 22,200kg.
To date Transport News has put two 6×2 rigids through the distribution test route, and each fitted with a rear steer axle. Renault Trucks T380 (TN, November 2017) and the DAF Trucks CF370 (TN, February 2019), and each proved adept at tackling the urban jungle.
The section from J3A off the M74 to the A74 at Broomhouse begins with a few twists and turns. And it was here we got a glimpse of how much room a 6.0 metre wheelbase wagon needs.
Despite the rear steer axle, by the time we'd reached London Road and the city centre it was clear that getting enough road space ahead of corners required the majority of two lanes.
The tight left from London Road into Saltmarket was done using all of the available road without crossing over to the central white line.
After crossing the River Clyde and turning right towards Laurieston to join the M8 at J22, the contrast between a rigid and articulated took another dimension.
Our experience with the tractor unit and tandem trailer proved to be less intrusive to other road users because it required less lateral space. With a rigid, even one boasting a rear steer axle, the pivot point remains the drive axle, making the wheelbase the critical element.
The driver still has to get the cab out into traffic or into a second lane to get enough room to sweep around. The truck took both lanes as it navigated its way left off Morrison Street into Paterson Street and then right onto Wallace Street.
For urban distribution, the FH might appear to be a little over the top even without the Drive++ option for the interior. It has the media navigation pack, Active Safety+ and 'visibility' package, which is a camera system.
Volvo's Dynamic Steering and the I-Park Cool round off the optional extras. The driver will thank you for the space and options, but it is heavier and more expensive than the alternative FM and FE options.
It has plenty of storage above the windscreen and on the backwall, a comfortable bunk and enough space to actually walk between seats and bunk.
Having traversed Glasgow city centre with a tractor unit and short wheelbase trailer with a rear steer axle, it was always going to be difficult to match its versatility and productivity with a three axle rigid.
Perhaps it's not the lack of manoeuvrability in the rigid truck that was stark in comparison to the tractor trailer, but the fact it used significantly more road space. It led, as an unintentional knock-on effect, to creating a rolling roadblock as it required two lanes for each turn left or right.
In an environment where traffic is slow anyway, drivers in vehicles behind the rigid seemed more willing to undertake or run a red light to make up for lost time having waited for the truck blocking its route to inch its way around a corner.
Despite being longer, heavier and with more axles, the tractor trailer combination used less lateral road space and allowed traffic to use adjacent lanes without other drivers encroaching on areas that might usually be needed for the truck to turn. Traffic ran more freely.
There are other considerations too, like the price tag. A tractor trailer will cost anything up to £20,000 more to buy, higher Vehicle Excise Duty, higher wages for the driver who will need a CE (class one) to drive it, and greater responsibility in maintaining a trailer.
Another is versatility: A second trailer (while an added expense) means the driver can swap and go, while a rigid requires its freight to be taken off or loaded before hitting the road again.
Ultimately, with Low Emission Zones playing a greater part of accessing urban environments hauliers might just be willing to embrace volume. That means the articulated approach to get more freight into the city using fewer vehicles.
Operator's Verdict
THIS TIME last year Lancashire based Adlington Welding Supplies put a new Volvo FH420 6×2 rigid onto its fleet. Fitted with Dynamic Steering and a rear steer axle it is set up to improve access to construction sites.
Based in Chorley, and with six depots including one in Falkirk, the fleet is mixed from small vans up to full HGVs.
Nigel Turner, owner of the company, takes great pride in being able to deliver the equipment it hires out, from the welders themselves through to compressors and generators, all in a reliable and timely manner.
'Choosing the right vehicles is vital,' he says. 'I was impressed by the 6×2 truck itself and the quality of the build, so that definitely swung my decision Volvo's way when it came to buying new.'
The FH420 6×2 Globetrotter rigid features Volvo's D13K engine and I-Shift automated gearbox together with an uprated 10 tonne front axle. It is designed as a drawbar unit. He says: 'We do a lot of work on construction sites where access can be really tight, so the lifting, steering axle along with Dynamic Steering will make the job a lot easier.'
Adlington Welding Supplies is FORS Silver accredited, so it's vital that staff can manage vehicle performance statistics. 'We need to keep a record of CO2 emissions and data such as engine idling times and we can get all that from the Dynafleet system,' he explains.
'Our drivers spend two or three nights away every week and we want them to be comfortable.'