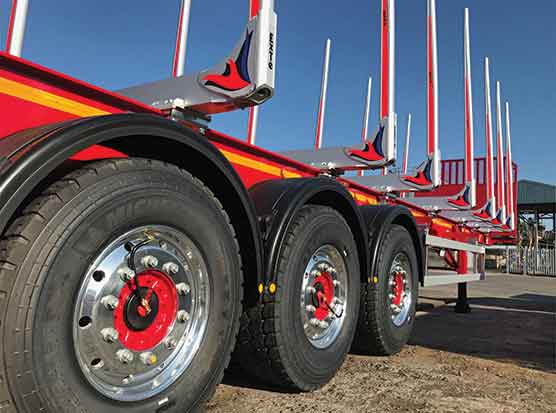 WHEN COMMISSIONING a trailer for the punishing demands of the timber industry, David Hyslop of Annandale Transport Company took no chances; specifying SAF-Holland Intra axles.
'Transportation for forestry typically involves dealing with some of the toughest road conditions imaginable, conditions that the weight optimised SAF Intra CD axles take within their stride,' David explained.
'The conditions these trailers have to operate in can be harsh in the extreme, especially off-road, so we need to be confident the running gear is up to the challenge and we know from experience that SAF CD axles really are. The other big plus points for us are that they don't need much in terms of maintenance and they come with a six year warranty as standard.'
'The SAF Intra CD employs a fabricated suspension arm that eliminates the use of springs and U-bolts. This feature, combined with an off-road shock absorber that allows low and high speed damping, makes it the perfect suspension setup for the rough forestry roads.'
On his latest, Dennison built skelly, David added the SAF TirePilot system in anticipation of tyre inflation systems becoming mandatory for driving off road through forests for timber collection.
The Dennison trailer pictured was supplied by JD Engineering in Dumfries. IMS is the specialist importer and distributor of SAF-Holland, VSE, SEM & Alex Rims products.