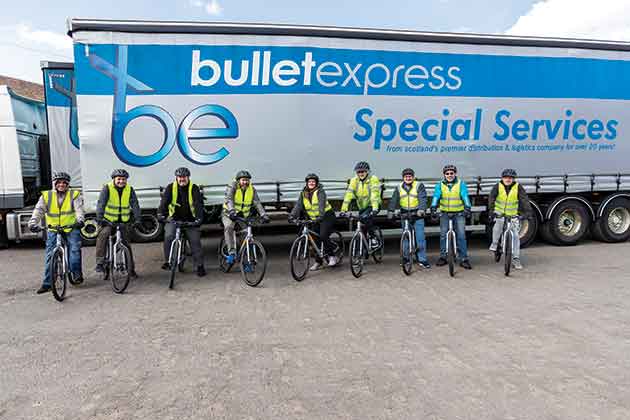 BULLET Express workers were put through their paces recently when they took part in a one day Practical Cycle Awareness Training course (PCAT). The course, devised and delivered by Cycling Scotland, aims to raise awareness among fleet drivers of people cycling, by asking them to get on their bikes to gain a greater understanding of how those on bikes, and other vulnerable road users, behave on the road.
Employees spent time in the classroom, followed by a practical cycle training session to familiarise themselves with those travelling by bicycle, foot, motorcycle and scooter. By learning basic on-road cycling skills, carrying out bicycle safety checks and negotiating road junctions and traffic, fleet drivers gained a better appreciation of the safety considerations from various road users' perspectives.
Being JAUPT accredited, this course counts towards seven hours of driver CPC. PCAT also meet FORS Silver requirement 'S5 Vulnerable road user training'.